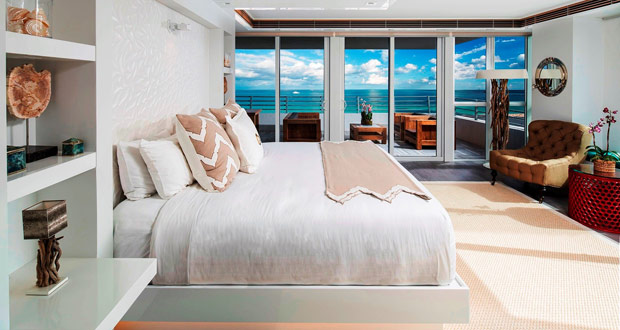 Miami Beach, Fla. – Hilton Bentley Miami/South Beach has completed its full guestrooms renovation. The 94-guestrooms at the boutique hotel underwent renovations earlier this year, adding new contemporary furnishings, light fixtures, and decor.
"The fresh look reflects the quintessential charm of Hilton Bentley, South Beach, and showcases the hotel's commitment to providing our guests with the warmth of home, yet the essence of pampering and relaxation," says Debbie Ramsawak, hotel manager, Hilton Bentley Miami/South Beach.
Designed by Bernhardt Designs, the new guestrooms accents the fun spirit of South Beach with cozy lighting and stylish new furnishings. Guestrooms include a luxurious Hilton Serenity Bed, 42" LCD television, kitchenettes and full kitchens in most guestrooms, Italian marble bathrooms, and balconies overlooking the skyline of South Beach or views of the Atlantic Ocean.
The Hilton Bentley Miami/South Beach also offers a two-story, two-bedroom penthouse with views of the Atlanta Ocean and South Beach. The penthouse has a full open kitchen, a dining room inside or out on one of the two balconies, and a private pool and Jacuzzi tub upstairs on the rooftop.
[slideshow_deploy id='39935′]