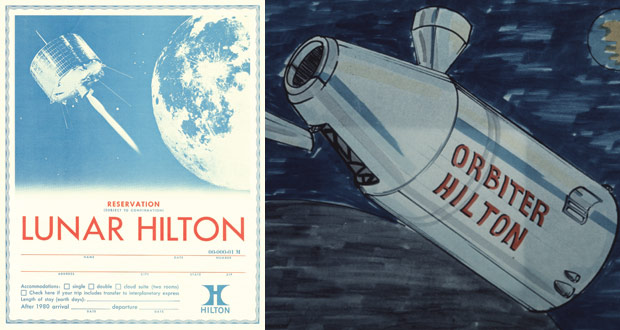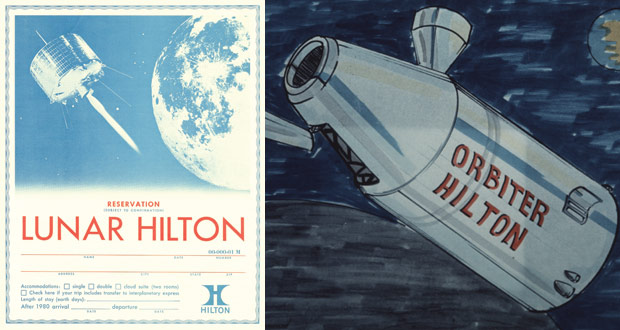 In 1967—a full two years before Neil Armstrong walked on the moon—a room full of outer space engineers and scientists attending a meeting of the American Astronautical Society at the Statler Hilton Hotel in Dallas, Texas, found themselves privy to a presentation about the opportunities inherent in building hotels in outer space. Barron Hilton, president of Hilton Hotels, arrived prepared with charts and renderings, and the audience was electrified. Soon, newspapers picked up the story and the public became equally fascinated with the idea of "space tourism."
Hilton, whose enthusiasm for space travel dated back to his childhood in Texas, noted that, once space tourism and commerce were established, hotels would naturally follow. He predicted that "Orbital Hiltons" would be the first stop for those long layovers during space flights to the moon or other planets.
Once passengers were on the moon, the Lunar Hilton would be there to receive guests. The Lunar Hilton, as described by Hilton during the speech, would be "highly automated" for the 1960s. The chefs in the kitchen would simply have to push buttons for the preparation of food; push-button drinks, too, would be precisely measured by bartenders in the Galaxy Lounge. The hotel itself would be built underground with four long corridors and a total of 400 rooms. Along with the operational details, Hilton also showed sketches of what the Orbital and Lunar Hiltons might look like.
For those willing to book reservations for a space hotel room, Hilton supplied a mock reservation form for the Lunar Hilton. Of course, that reservation had to be filled out by hand, since there were no online reservations in the 1960s. In trying to come up with a guestroom key that looked futuristic, the designers took the simple key and key fob of the day and made it sleek with small holes in the key itself. The idea of a credit card–size room key, let alone a personal hand-held phone that would be able to open guestrooms and do a thousand other things, was beyond comprehension.
The speech and the following media stories brought a torrent of inquiries about reservations and how soon the Orbital or Lunar Hilton would open. In requests from around the world, people were pleading to be the first guests of the Lunar Hilton. From a publicity perspective, Barron Hilton's speech was a hit. The news coverage kept the Hilton name in newspaper and magazine articles for months. In fact, in the following decades, discussion of space tourism and travel often updated the Lunar Hilton story with more current versions of what a moon hotel would look like. While the passion of the space race has subsided somewhat since then, there is still a strong interest in the possibility of space hotels in the not-too-distant future.
About the Author

Mark Young, Ph.D., is director of the Hospitality Industry Archives at the Conrad N. Hilton College of Hotel & Restaurant Management, University of Houston.