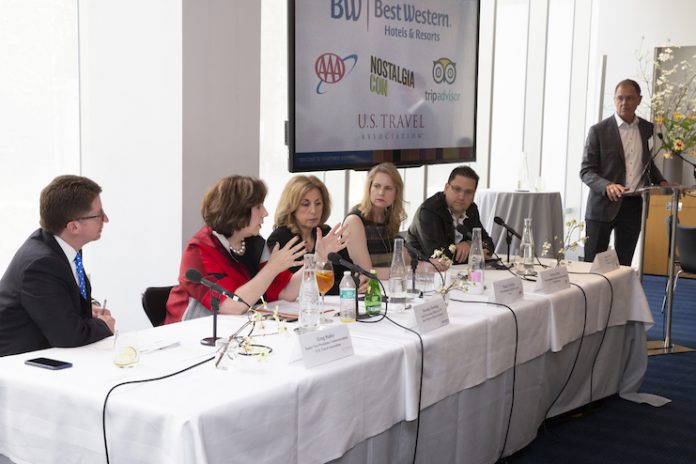 PHOENIX, Arizona—At the 14th annual Best Western Hotels & Resorts Leisure Travel Summit—held in New York City at The Museum of Modern Art's restaurant, The Modern, on May 15—panelists from AAA, NostalgiaCon, TripAdvisor, and U.S. Travel Association spoke to current trends shaping travel, shared insights into the outlook of the industry, and discussed the impending summer travel forecast. Dorothy Dowling, Best Western's senior vice president and chief marketing officer, also took part in the discussion. Below are five of the biggest trends highlighted during the summit for this summer and beyond.
1
Bridging the Luxury Travel Accessibility Gap
Panelists at the Leisure Travel Summit pointed to the growing trend of accessible and aspirational travel, showcasing the fact that today's travelers yearn for exceptional, memorable, and otherwise unique experiences. The event theme—"Best of Both Worlds"—highlighted Best Western's recent acquisition of WorldHotels, a collection of approximately 300 properties worldwide. During the panel, Dowling spoke about Best Western's objectives with the acquisition to bridge the gap between aspirational luxury travel and accessibility, which will start with the launch of a new WorldHotels Rewards program this summer. This program will be built on the infrastructure of Best Western Rewards.
"Sharing industry predictions and perceptions is key to helping the industry evolve and I'm truly grateful to have gathered yet again with this insightful group," said Dowling. "Learning from industry partners what today's travelers desire helps shape the best experiences for our guests. This year's Best of Both Worlds event theme helps illustrate how companies like Best Western, and our esteemed co-panelists, are connecting travelers with the best experience, no matter their preferences or budget."
2
More Travelers To Hit the Road This Summer
The Leisure Travel Summit coincided with the launch of AAA's annual Memorial Day Summer Travel Forecast. This year, nearly 43 million Americans are expected to travel during Memorial Day weekend—the second-highest travel volume on record since AAA began tracking holiday travel volumes, according to Paula Twidale, vice president, AAA. An additional 1.5 million more people will take to the nation's roads, rails, and runways compared with last year—a 3.6 percent increase.
Supporting the AAA forecast of 37.6 million Americans traveling by automobile, recent statistics shared by Dowling during the Leisure Travel Summit show that projected room nights for highway properties in the United States are up 21 percent relative to last year.
3
Leading Summer Destinations 
Top U.S. summer destinations, according to U.S. News & World Report, continue to be those near National Parks, with Yellowstone in second place and The Grand Canyon and Yosemite also highlighted on the list of top 20 global destinations.
According to Desiree Fish, vice president of global communications for TripAdvisor, iconic landmarks continue to drive travelers to major destinations, though an increase has been noted in "skip the line" tours.
4
Social Media and Peer Reviews
Other trends discussed at this year's Summit include personalization, social responsibility, foodie travel, and experiential getaways. Manny Ruiz, CEO and co-founder of NostaliaCon, recognized the emergence of travel photography and capturing visuals as a key part of the vacation experience. Panelists also discussed the power of peer reviews in shaping travelers' expectations, as well as how they research and book.
Dowling noted an increase in the number of Best Western hotel reviews from 2017 to 2018, up 8 percent. The average review response rate for midscale hotels hovers around 40 percent and the company has a response rate of 77 percent to negative reviews and 55 percent to positive reviews. "At Best Western, we understand the power of reviews and have made it a priority to excel in responding," Dowling said. "Listening to and engaging with our guests has always been a staple of Best Western's superior guest service. We are committed to incorporating this valuable feedback into our continuously evolving product."
Panelists also weighed in on how the travel industry will adapt to changing demographics. According to Harvard University projections, the total number of households in the United States will grow by over 21 million between now and 2038. New projections call for significant growth in the number of older-adult, minority, and millennial households, and for single-person households, the fastest growing segment over the next decade, empty-nesters, and married couples with children to lead growth among household types.
During the panel, U.S. Travel Association Senior Vice President of Communications Greg Staley noted the number of millennials taking "Generation Alpha" (children under age five) along for the journey.