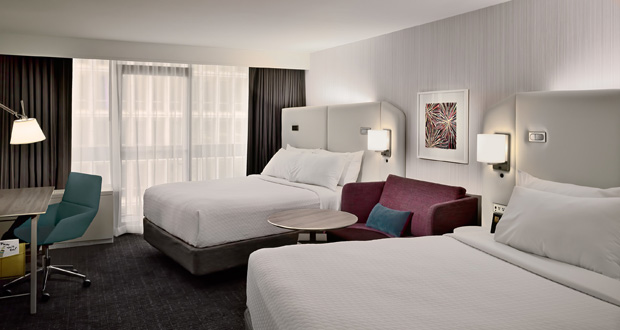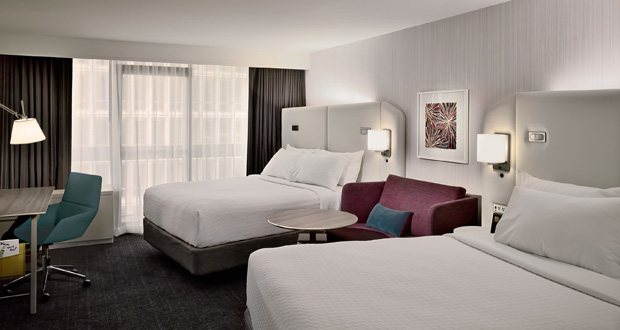 ATLANTA—Crowne Plaza Hotels & Resorts today announced the approval of its patent application for the WorkLife Room—what the brand is calling the "guestroom of the future." The newly patented concept is designed to help modern business travelers with productivity and provide them with a space that fits their blended lifestyle.
The WorkLife Room was developed as part of the Crowne Plaza Accelerate program, IHG's $200 million, multi-year investment to transform the Crowne Plaza brand in the Americas region. Following the WorkLife Room's market debut in early 2017, the patent approval marks a milestone in the brand's quest to bring innovative design to the fold for the modern business traveler.
With a flexible environment and distinct zones that encourage guests to work, relax, and recharge, the key elements of WorkLife guestrooms include:
An angled bed, which opens up more space for the room's distinct zones. The cocooning headboard, Beautyrest mattress, plush linens, and Sleep Advantage aromatherapy kit are designed to help guests rest;
A sofa nook that serves as a multi-purpose space for reading, watching TV, working, meeting with colleagues, or eating;
A desk area that is an uncluttered workspace where guests can focus;
A welcome station, which gets guests settled with a space for keys, bags, and coats; and
A bathroom with modern and bright design to help guests feel re-energized by their routines.
Additionally, because connectivity is key for the modern traveler, the WorkLife Room has fast, free WiFi and charging station –comprised of USB and power outlets–to power up to fourteen devices. Guests are never more than an arm's length away from a charging station and never have to move furniture to reach outlets.
Meredith Latham, regional vice president, Crowne Plaza Hotels & Resorts, Americas, says, "The patent approval of the Crowne Plaza brand's WorkLife Room is a major distinction–one that speaks to the concept's ground-breaking design, and one that demonstrates how the Crowne Plaza brand is redefining what a hotel room can be."
The WorkLife Room is currently available in Crowne Plaza properties nationwide, including Crowne Plaza Atlanta Midtown; Crowne Plaza Downtown Denver; Crowne Plaza Farmington Hills – Novi; Crowne Plaza Cleveland at Playhouse Square; Crowne Plaza Suites Arlington – Ballpark – Stadium; and Crowne Plaza Springfield. Three thousand WorkLife Rooms are expected to be installed by early 2019, including the brand's first-ever flagship property in the Americas, Crowne Plaza Atlanta Perimeter at Ravinia.