Hilton's neighborhood-centric lifestyle brand has been on the move. After establishing its flagship location in Reykjavik, the brand entered the United States, opening two properties near the nation's capital—in Greater Washington, D.C.'s Bethesda North and The Wharf neighborhoods. Locations especially matter to the Canopy brand because each hotel is designed to be an extension of its neighborhood, says Gary Steffen, global head of Canopy by Hilton. Over the next five years, Hilton plans to open more than two dozen Canopy hotels around the world and is in the process of selecting the right markets and developers for these properties.
This past summer, Canopy opened two hotels in under two weeks in Portland, Oregon, and Dallas, Texas. "With the openings of Canopy Portland Pearl District and Canopy Dallas Uptown, we have doubled our footprint in the Americas, and now have a total of five properties in our portfolio," Steffen says. "Canopy has an aggressive pipeline of over 30 hotels scheduled to open in the next five years in neighborhoods like Zagreb, Chengdu, Atlanta Midtown, Kuala Lumpur, and more."
Canopy has been on a mission to expand westward in the United States and across the globe, identifying the right locations where the localized brand can thrive—from Austin, Texas, to Tempe, Arizona. "When identifying neighborhoods for expansion, we search for vibrant locales close to the pulse of the destination that boasts local shops and restaurants, as well as the bustling energy of the neighborhood residents," Steffen describes. For example, the Portland Pearl District property—the brand's first West Coast hotel, which is managed by PM Hotel Group and developed by The Buccini/Pollin Group—is located in a revitalized industrial zone that Steffen says has "quickly become a go-to spot for visitors and locals alike" thanks to its many boutique shops, art galleries, microbreweries, green spaces, and food venues—"Making the neighborhood perfect for a new lifestyle hospitality offering," Steffen adds.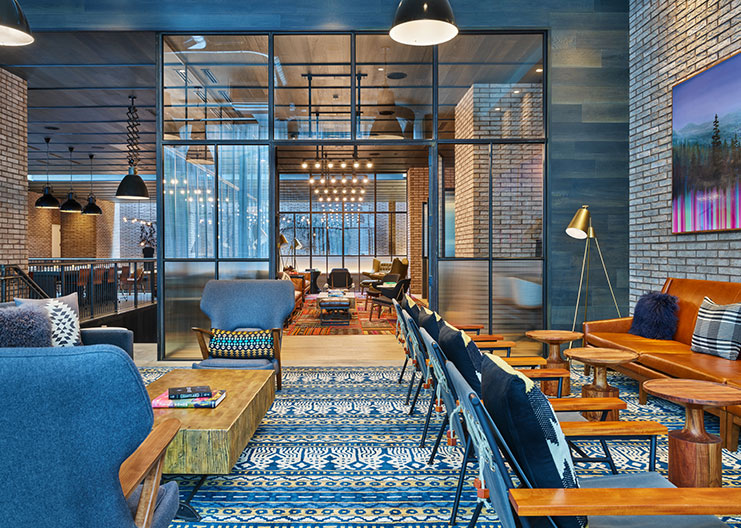 Canopy hotels are developed not only to complement the surrounding neighborhood, but to elevate it as well. Driftwood Acquisitions & Development (DAD), the developer behind the new Canopy by Hilton in Tempe, is building a more than $60 million, 200-room hotel on University Drive across from Arizona State University, one of the largest public university campuses by enrollment in the United States. DAD is also purchasing the land parcel from The OPUS Group to anchor a corner of the group's full block, mixed-use development Union Tempe—two residential high-rise apartment towers connected to 31,000 sq. ft. of retail and restaurant space—further ensuring a vibrant neighborhood dynamic.
The developer and owner for Canopy by Hilton Austin Downtown is locally based Scenic Capital Advisors, a private real estate investment firm founded by Richard Singleton. The hotel will be surrounded by plenty of demand drivers, including leading employers like Google, Facebook, Wholefoods/Amazon, GSDM, and Cirrus Logic, which are within walking distance. The hotel's design team—led by Lake/Flato Architects and including interior design firm, Seifert Murphy, and landscape architects, Hocker Design Group—aims to enhance the entire district even further, connecting the property to the street and opening it to the community with a courtyard full of seating and greenery.
As experiences in travel grow more popular among consumers, lifestyle hotels are stepping up to the plate to cater to these guests. "The lifestyle hotel space has changed tremendously over the last few years, and our research pointed us to an opportunity to offer travelers something more: an energizing, comfortable stay with more included value," Steffen says. "Many travelers felt overwhelmed by choices and underwhelmed by cookie-cutter hotels, and simply wanted a comfortable place to relax and refresh, and to experience the city like a local."
Photos: Canopy by Hiton Portland Pearl District