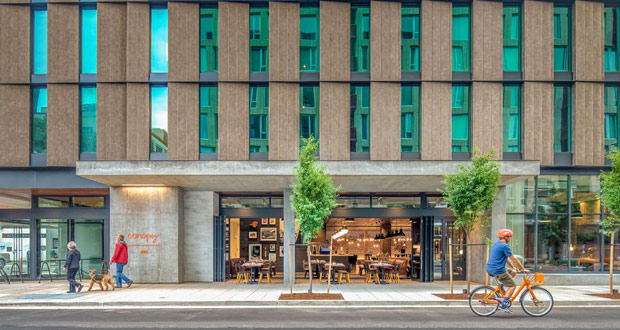 Canopy by Hilton recently announced that it doubled its footprint in the Americas in under two weeks. The lifestyle brand now has a total of five properties in its Americas portfolio following the openings of Canopy by Hilton Portland Pearl District and Canopy by Hilton Dallas Uptown, with plans to open nearly 30 hotels in the next six years.
Canopy by Hilton Portland Pearl District is located in a revitalized industrial area with indie boutiques, art galleries, microbreweries, green spaces, and eateries. The Canopy by Hilton Dallas Uptown neighborhood brings guests to a walkable district with more than 100 shops, restaurants, and entertainment. Canopy by Hilton Dallas Uptown emphasizes its locale by telling the story of the Uptown district throughout the hotel, including artwork, vintage bricks from McKinney Avenue, and a refurbished piece of the M-Line Trolley.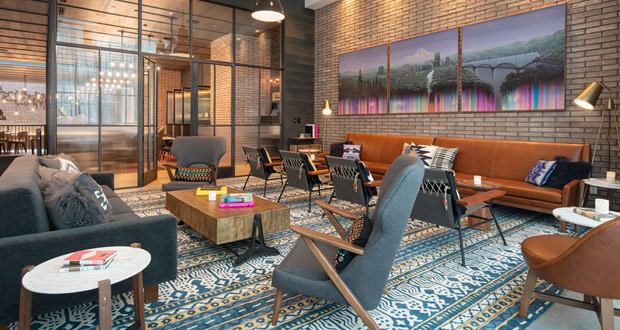 "Canopy by Hilton's thoughtfully local choices and surprising extras have been part of the brand DNA since its inception," says Gary Steffen, global head, Canopy by Hilton. "Each property is a natural extension of its neighborhood as seen through local design, food & drink, and culture. Canopy by Hilton Portland Pearl District and Canopy by Hilton Dallas Uptown are both located in key urban cities with vibrant neighborhoods that offer a fresh, positive stay for guests."
As part of the Canopy brand, each of the new properties will present guests with Welcome Gifts upon arrival—local, mini cupcakes or a YEN chocolate for guests in Portland and pastries from Bisous Bisous for guests in Dallas Uptown. Other localized offerings include complimentary evening tastings of local drinks from Portland's Distillery Row and Dallas' Deep Ellum Brewery, Community Brewery, and Lakewood Brewery. Dallas Uptown also has a rooftop lounge, Upside, with views of downtown, craft and local beers, high-end wine, and creative cocktails as well as food menu serving small bites and shared plates.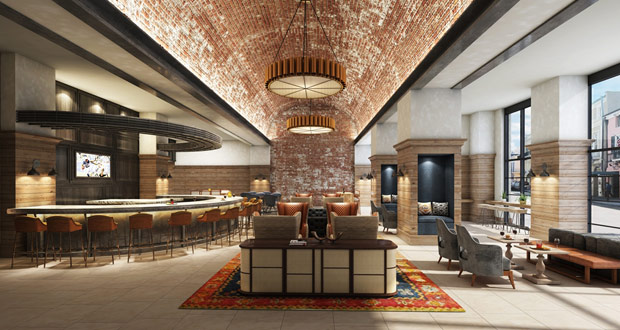 "Canopy Enthusiasts–or local experts–are a signature part of the Canopy by Hilton experience. Their local know-how, such as recommendations on the best restaurants and excursions in the neighborhood, offer unique itineraries for our guests," Steffen says. "In Portland's Pearl District, Powell's City of Books, Portland Japanese Garden, and Deschutes Brewery are just a few of the local gems that should not be missed. Each offers a unique glimpse into the ingenuity, beauty and independent spirit of the neighborhood and are sure to leave guests with unforgettable memories of The Pearl."
As with all Canopy by Hilton properties, guests checking in to Portland Pearl District and Dallas Uptown can rent bikes and access the hotels' Transfer Lounge–an area for guests as they check in, including self-directed luggage storage, changing areas, and restroom amenities. In addition, both Canopy by Hilton Portland Pearl District and Canopy by Hilton Dallas Uptown now participate in the brand's Paws in the Neighborhood initiative—a partnership with Planet Dog, a manufacturer of eco-friendly pet products, in which four-legged guests receive a Just-Right dog bed and a "Paws in the Neighborhood Welcome Gift," which includes a Planet Dog Orbee ball, a locally-sourced dog treat from Portland and Dallas, dispenser of pickup bags, eco-friendly, fleece-lined leash, and collar.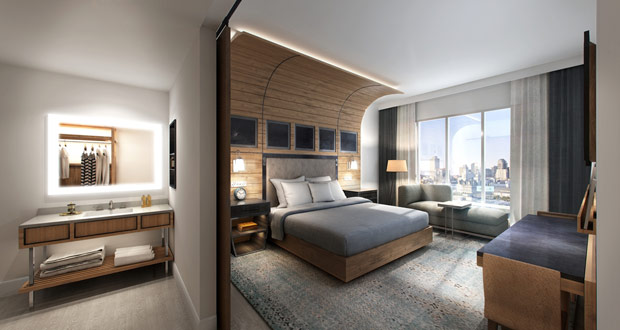 "At Canopy by Hilton Dallas Uptown, we are also offering a 24-hour pass to Mutts Canine Cantina, which is located across from the hotel," Steffen adds. "The dog-friendly restaurant and dog park is an exciting extension to our Paws in The Neighborhood program, inviting guests and their dogs to enjoy the local neighborhood."
In addition to existing properties in Reykjavik, Iceland, and Washington D.C.'s Bethesda North and The Wharf neighborhoods, the brand plans to drastically expand its portfolio over the next six years in neighborhoods like Zagreb, Chengdu, Atlanta Midtown, Kuala Lumpur, another Dallas property in the Frisco Station neighborhood, and more.
"We have seen a growing demand from ownership groups who are looking to develop in dynamic neighborhoods, and with the Canopy by Hilton brand, developers are able to offer travelers a fresh approach to hospitality and the lifestyle category as a whole," Steffen concludes.
Top photo: Canopy by Hilton Portland Pearl District