According to an Oxford Economics study for the American Hotel and Lodging Association (AHLA), 44 percent of hotel employees in every state have lost or are projected to lose their jobs in the coming weeks. An estimated four million total jobs have been eliminated already or are on the verge of being lost in the next few weeks, according to AHLA, which includes job loss in the supply chain.
In certain affected markets, including Seattle, San Francisco, Austin, and Boston, hotel occupancy rates are already down below 20 percent and individual hotels and major operators have shut down operations.
Last week, AHLA and top hotel CEOs met with President Trump and Congress to seek urgent assistance to keep hotels from shuttering and protect millions of employees from job loss.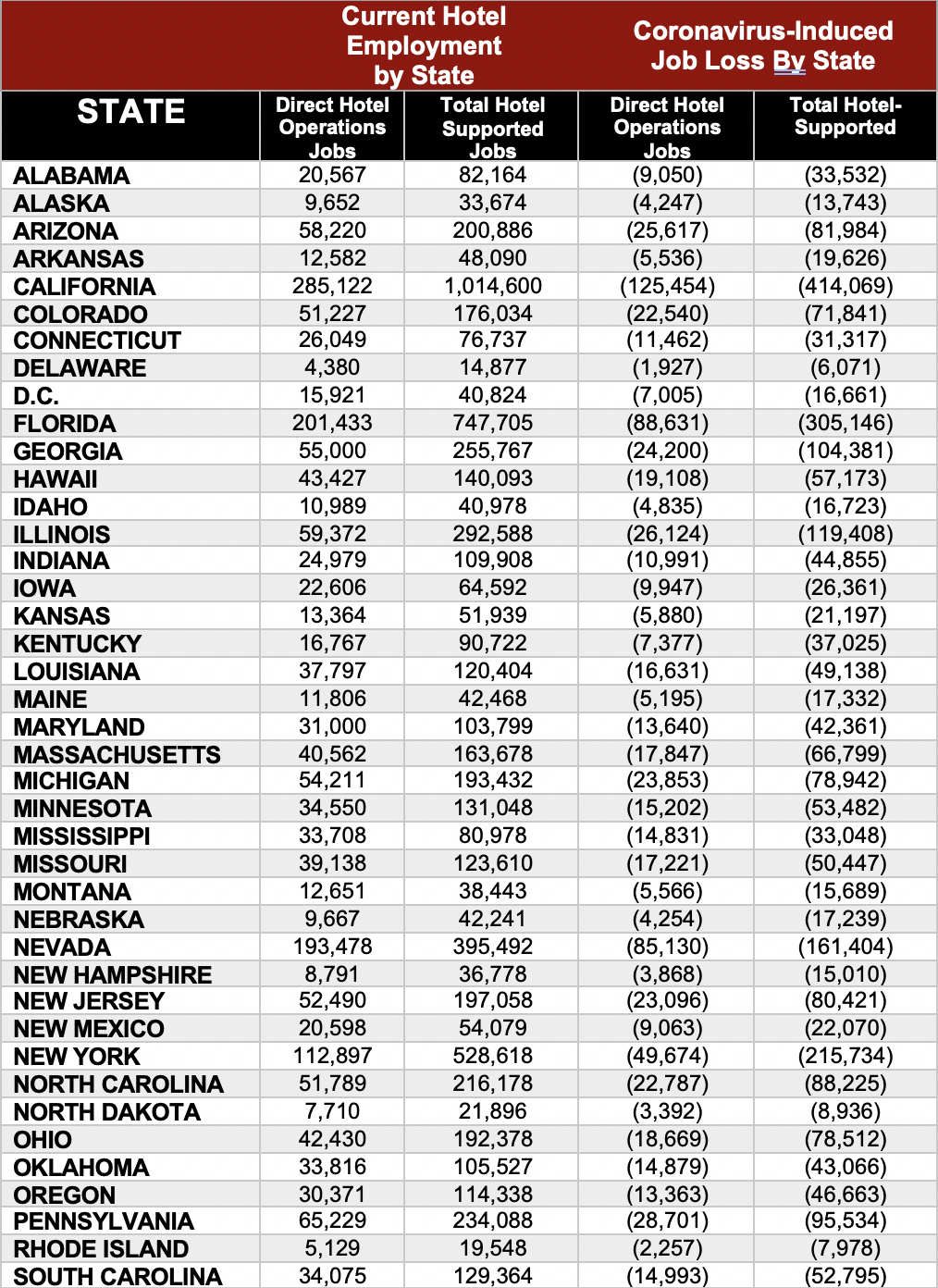 "The impact to our industry is already more severe than anything we've seen before, including September 11th and the great recession of 2008 combined," said Chip Rogers, AHLA president and CEO. "The White House and Congress can take urgent action to protect countless jobs, provide relief to our dedicated and hardworking employees, and ensure that our small business operators and franchise owners—who represent more than half of hotels in the country—can keep their doors open."
CARES Act
On Saturday, Chip Rogers, AHLA president and CEO, released a statement on the progress of the CARES Act in the Senate.
"We applaud Leader Mitch McConnell and Minority Leader Chuck Schumer for their leadership during this unprecedented public health crisis and heartened by the progress the Senate is making on the CARES Act," Rogers said. "The swift action they have already taken and current proposals for supporting our economy recognize the devastating impact of COVID-19. Without this action the livelihood of millions of American workers and thousands of small businesses is at risk."
"The hospitality sector has been especially hard hit as the nation's economy shuts down. We expect that 70 percent of hourly hotel employees are no longer working. Additionally, we expect half of all U.S. hotels will cease operations by the end of March," Rogers continued. "Without immediate action, millions of workers will soon find themselves out of a job. The CARES Act is a significant step forward and we support the underlying foundation of the legislation. However, we believe three improvements can be made to better support employees and the small businesses that employ them."
Rogers said that those three improvements include providing furloughed workers direct assistance through enhanced unemployment insurance programs; offering tax credits to employers who maintain health insurance benefits for furloughed workers; and expanding instant access to SBA lending programs so hoteliers can keep their businesses open.
---
Subscribe to Lodging Daily News for updates.