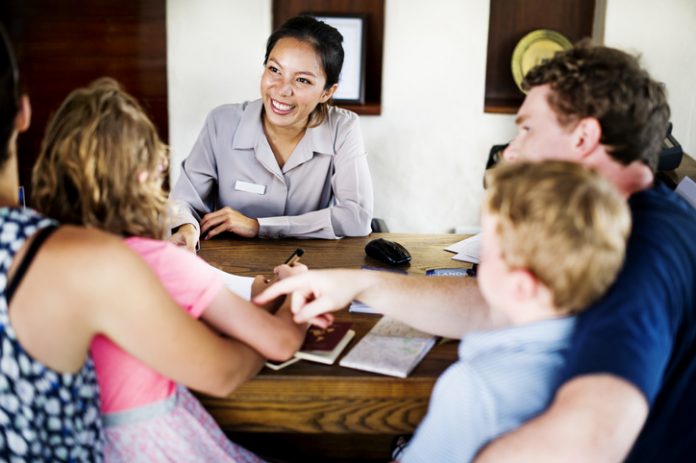 It's been a decade since the U.S. hospitality industry rose from the ashes of the economic recession. Ten years of consecutive growth has led to an economic shift in emerging markets, resulting in a surge of demand felt by segments across the travel industry. The numbers sound even better: from 2009 to 2017, U.S. hotel gross bookings grew 60 percent, capping at $185 billion, while airline revenue jumped from $155 billion to $222 billion. Without question, a strong hospitality industry is fundamental to global economic prosperity. However, unprecedented growth, a robust economy, and a lift in global consumer purchasing power didn't come without a catch. In 2009, the U.S. Bureau of Labor Statistics estimated 353,000 job openings across the leisure and hospitality sector. In 2018, the number jumped to 1,139,000, which accounts for 16 percent of total open positions in the United States—by far the largest labor gap of any industry in the nation.
Growth rarely happens without related growing pains, and the lodging industry is no exception. If a hospitality business is unable to meet its staffing needs with engaged and quality team members, then service quality levels, operational effectiveness, and growth opportunities will be severely impacted.
While hospitality is no stranger to labor gaps, the magnitude of the current shortage demands attention, not just from within the industry, but from across the nation's economy. Progress will require hospitality leaders to collaborate with adjacent industries and re-brand the industry as a viable career path for a diverse labor pool. The present and future workforce needs inspiration to pursue careers in hospitality, sales, and culinary arts, both as a fulfilling and stable source of short-term work and as platforms for sustained career advancement.
To achieve this feat, hospitality leaders must focus their efforts on three key initiatives.
1
Target Tomorrow's Talent
By 2030, millennials will make up 75 percent of the workforce, according to the Bureau of Labor Statistics. Industry leaders must target millennials with a fresh perspective of a hospitality career that resonates with their specific needs and desires.
A recent Gallup survey found that millennials "are not pursuing job satisfaction; they are pursuing development." The same poll also concluded that millennials have "little patience for upward mobility." In other words, many millennials view their current job only as a means to a greater end. As soon as they no longer feel that they are developing, they will leave to find development elsewhere.
While the cost of training and development programs is already steep, the pay-off is there; a recent Deloitte study shows that employees are 73 percent more likely to stay at their company for more than five years if they perceive their employer as a strong provider of education and professional development.
Through training programs, career events, and career development partnerships, leaders from both the industry and associations have opportunities to create smoother transitions to the field. This also allows them to showcase the industry to a community of educators, parents, and students who perhaps never considered the option before.
When it comes to loyalty, no industry should be more familiar with the concept than hospitality businesses that understand the lifetime value of a loyal guest. But what about the lifetime value of a loyal employee?
Hotels often have high employee turnover rates. A recent Oregon State University study showed that, among all work-eligible age groups, millennials were the least satisfied with their job and the least likely to stay employed in the hospitality industry, with only 55 percent reporting that they would stay within the next five years.
Hospitality leaders can apply the same strategies they've relied on to earn loyal guests to employees. Employers must offer team members greater flexibility, autonomy, and the ability to be better off financially, professionally, creatively, and emotionally than if they went elsewhere.
To close the hospitality labor gap, leaders must rebrand the industry as a career path capable of fulfilling, meaningful experiences—not just for guests, but for employees as well. To do this, hospitality companies must invest in building a dynamic work environment and culture that is aligned with the values of the modern workforce.
Today's employers must accept that from here on out, the technological expectations of their staff will only continue to outpace their own personal exposure to technological innovation. Therefore, business owners intent on retaining quality staff must invest in their future by exploring new ways to use emerging tech to empower smarter workforces, automate redundant tasks, and streamline collaborative efforts.
For example, businesses relying on legacy systems that mirror the hierarchical structure of traditional organizations will be met with disengagement from a tech-savvy workforce and the cost associated with wasted efforts. Rather than being able to communicate, share, and work on files and content with everyone involved in a task, they could find themselves working in silos.
Businesses must deploy tools that spur open collaboration and idea sharing across and between organizations. When a company's communication structure enables workers to share their creativity, ideas, and knowledge, as well as learn from those around them, everything from performance to engagement improves.
To create a sustainable, long-term competitive advantage, hospitality organizations must also revisit the monotony of hard-to-fill entry-level staff jobs that don't offer the creativity and mobility that today's workers demand. Businesses will need to leverage lower cost technology and automate routine job tasks and focus instead on interpersonal skills and ensuring confident guest interactions.
Hospitality is rooted in personal fulfillment. The industry exists because people need care and connection when they are away from their homes. No generation is better poised to embrace this mentality than the one on the horizon. If industry leaders help rebrand the field through meritocratic cultures and a commitment toward technological advancement, hospitality's greatest threat can become its greatest opportunity.