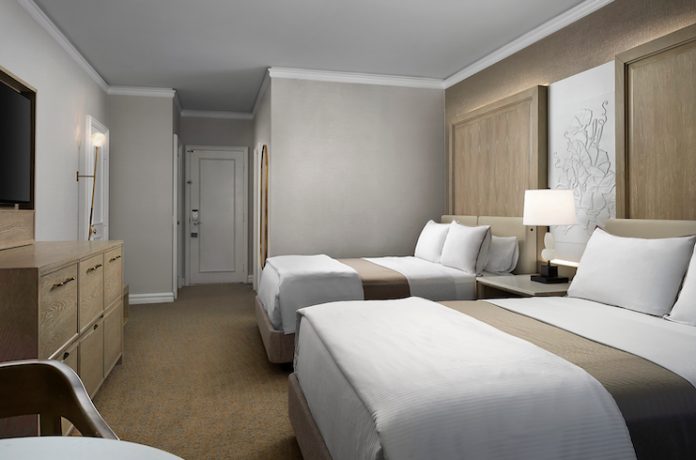 PHILADELPHIA—The Westin Philadelphia, a Westin Hotels & Resorts property managed by HHM Hotels, announced the completion of a multi-million dollar renovation. With upgrades to the property's guestrooms and suites, public spaces, and dining experience as well as amenities and sustainability initiatives, the renovation signals the next era for the property.
"Offering a standout guest experience is our top priority and in order to meet evolving demand, we saw an opportunity to elevate the Westin Philadelphia experience, further positioning the property as a true home away from home for all types of guests," said Matt Nelson, general manager of The Westin Philadelphia. "This renovation has allowed us to further elevate our standard of luxury through thoughtful design, amenities, and experiences that meet the needs of the modern leisure and business traveler."
Conceptualized by Bill Rooney Studio Inc., The Westin Philadelphia's revitalized interiors blend elements of modern design and heritage interior architecture to create a balance of then and now. Neutral hues of wheat, gray, and white complemented by brass accents create an energized environment.
"The Westin Philadelphia's design celebrates Philadelphia's urban spirit and rich history while simultaneously serving as an opportunity to connect guests with the surrounding natural world, which is often overlooked in city design," said Bill Rooney, president and designer at Bill Rooney Studio, Inc. "Through the selected color pattern, materials, accents and intentional focus on shared spaces, the renovation celebrates the spirit of Philadelphia while offering an inspired yet customizable palette for weddings, meetings, events, and beyond."
The Westin Philadelphia has 294 guestrooms including 19 suites that offer a retreat. Ranging from 380 to 1,353 square feet, accommodations show the neutral color palette found throughout the property in addition to wood furniture and accents, pops of color, and Heavenly Bed and Heavenly Bath amenities. Windows allow natural light and complement the design principles found throughout the property.
With more than 15,000 square feet of event space including the Grand Ballroom, Georgian Room, and third-floor foyer, The Westin Philadelphia is for both small gatherings and large-scale events. Additional upgrades to public spaces include the property's WestinWORKOUT Fitness Studio, which offers equipment and celebrates Westin Hotels & Resorts' commitment to maintaining a wellness-centered lifestyle while guests are away from home.
The signature dining experience at The Westin Philadelphia, Lea Restaurant & Bar has regionally sourced ingredients and seasonal specialties complemented by cocktails. The upgraded design has a marble bar. Brass finishes and wood accents complete the space.