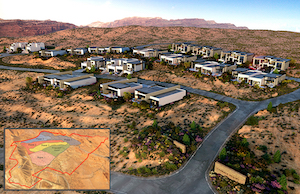 BEVERLY HILLS, California—Sonnenblick-Eichner Company has arranged $50 million of construction financing for Phase I of the Lionsback Resort in Moab, Utah, a 175-acre development located adjacent to Canyonlands and Arches National Park in eastern Utah.
Proceeds from this fixed-rate, non-recourse construction loan will be used to complete the Phase I onsite infrastructure improvements and vertical construction of the initial 34 single-family homes, as well as the horizontal infrastructure of Phase II. To be built over five phases, at build-out, the $350 million Lionsback Resort development will include 188 single-family residences and a resort hotel. The project will be the first luxury residential development in the city of Moab.
"Given the unique location of the site and the strict barriers to entry, we were successful in procuring a lender that provided a non-recourse loan at 85 percent of cost," said Elliot Eichner, a principal of Sonnenblick-Eichner Company.
"Our client spent 16 years to obtain the entitlements to build this project in one of our country's most beautiful natural environments," added David Sonnenblick, a principal of Sonnenblick-Eichner Company. "We were fortunate, given the uncertainty in the market, to be able to identify a lender who understood the viability of this special development."