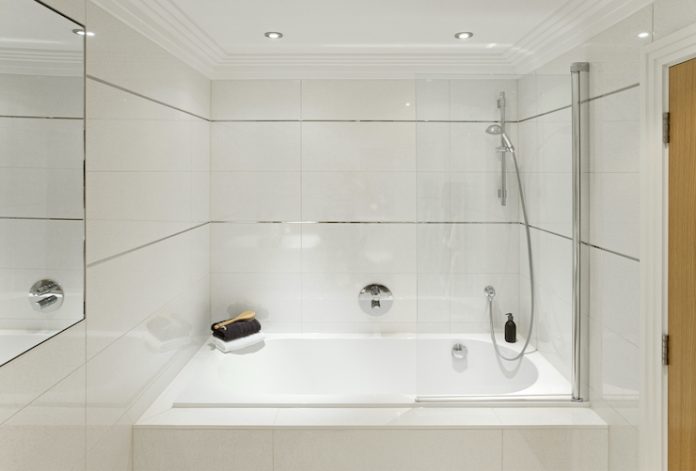 As long as hotels provide bathtubs or showers for their guests, there will be accidents. These accidents can be costly. People can be hurt, bad customer reviews damage the brand and reduce ADR, and injuries can even lead to death.
For instance, a Denver jury awarded $240,000 in one hotel bathroom slip and fall case: The guest slipped and fell in her hotel bathtub, which was not equipped with a slip-resistant surface or a safety grab bar. The National Floor Safety Institute estimates that the average cost to defend against a slip and fall lawsuit is $50,000 and 40 percent of all hotel guest accidents are slip and fall accidents. In hotel bathrooms, the number-one cause of injuries from slips and falls is on wet surfaces, namely bathtubs, showers, and floors. A bathroom fall can result in head trauma, hip injuries, spinal injuries, neck fractures, broken bones, or even death. The most common injuries are painful contusions and broken bones.
Slip and falls cannot be prevented, but you can reduce exposure by taking preventative steps in advance to make bathrooms safer and minimize risk to your guests.
What can you do?
The first thing hoteliers should do is… something! Not taking preventative steps is not good business and will likely result in more and larger claims. To reduce the risk of slip and falls in wet areas, there are several options. As expected, different factors apply such as cost, ease of maintenance, longevity, effectiveness, and customer acceptance.
Let's look at options to reduce the slip and fall risk in a bathtub.
These are inexpensive and easy to leave on the side of the tub for guests to use. However, rubber mats are not easily cleaned, and they are almost universally despised by customers who perceive them as dirty and unsanitary.
2
Glue-on mats and appliques
Glue-on mats and appliques are easy and inexpensive to install. They generally don't last long because edges tend to lift and peel with regular cleaning. Also, the hard edges collect soap scum and other organic "dirt" and quickly become difficult to keep clean and sanitary.
Chemical etching is sometimes recommended for porcelain tubs. Etching creates small pits in the surface to create a rough surface, but these pits fill up with soap scum and body oils reducing the effectiveness. While etching is quick and cheap, repeated applications are required, which can reduce the effectiveness and result in weakening the integrity of the surface leading to discoloration.
4
Permanently applied slip-resistant surface
A permanently applied slip-resistant surface involves the professional application of a resin containing granules that provide slip resistance.
The benefits of professionally applied slip-resistant surfaces are:
It is durable and is bonded to the surface so the edges will not lift
It can match the color of the tub or be applied in a contrasting color so guests are aware of the safety feature
The coarseness of the texture can be adjusted to the desired level of slip resistance
The textured surface is easily cleaned with non-abrasive cleansers and a moderately stiff scrub brush
Return to service is fast; rooms treated before 10:00 a.m. can be rented that day
Lifetime is typically over several years depending on cleaning procedures
Value is good relative to features and benefits
Can be applied to bathtubs, showers, or floors
Summary
There are many options and, as so often is the case, hoteliers will typically "get what you pay for." Slip and falls cannot be prevented, but taking preventative steps to make bathrooms safer is good for guests and will help reduce risk.