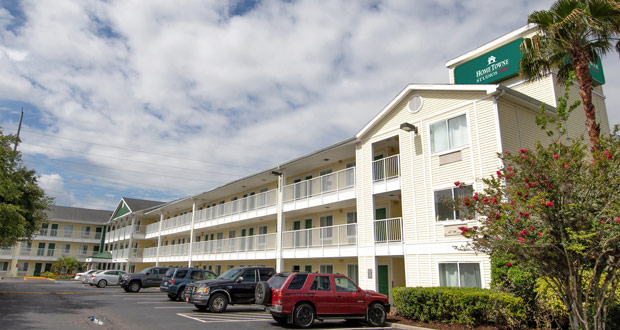 COLUMBUS, Ohio—Red Roof is entering the growing extended-stay market with the launch of a new sub-brand, HomeTowne Studios by Red Roof. The brand has a pipeline of more than a dozen properties scheduled to open over the next 12 months and will undergo a phased launch of over 30 properties across more than 20 markets with nearly 4,000 rooms.
The extended-stay segment has grown immensely in the past few years, with extended stay builds currently making up more than a quarter of all hotel development projects in the U.S. pipeline, according to Lodging Econometrics. "The extended stay category continues to grow as consumer preferences continue to evolve," says Andrew Alexander, president of Red Roof. "The launch of HomeTowne Studios by Red Roof is a natural progression, and key milestone, as we extend our portfolio for a range of guests, leveraging our solid industry reputation for knowing what guests want and fulfilling those needs with a full fleet of offerings, now including extended stay."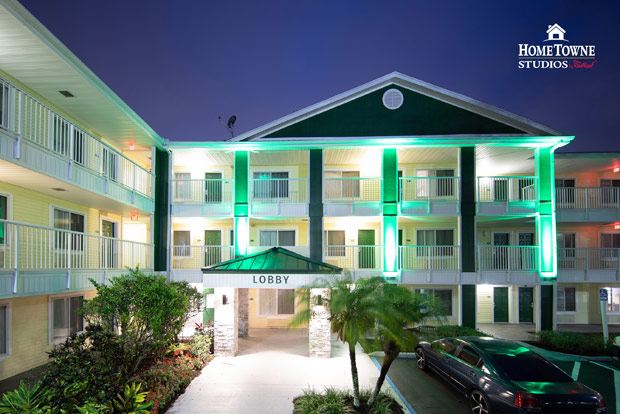 The company expects rapid growth based on guest demand for its new sub-brand through strong franchisee partnerships, Chief Development Officer Phil Hugh explains. "HomeTowne Studios by Red Roof offers franchisees opportunities to invest in one of the most rapidly growing segments of the hospitality industry. This new sub-brand will create additional brand awareness, giving our franchisees access to a new customer base while still benefitting from the strong brand equity, attributes, benefits, and proven support system of Red Roof."
As local residents comprise 60 percent of extended-stay occupancy, extended stay is an all-inclusive alternative to upfront rental and security deposits, monthly rents, gas bills, water bills, cable bills, electric bills, and parking fees. Extended stays are also attractive to those in project-based job industries—such as construction and healthcare—and those who are part of the gig economy, which sees more Americans than ever moving frequently from job to job. Business travelers who are frequently on the road and families with patients in nearby hospitals and professionals who are relocating are also frequent guests in this sector.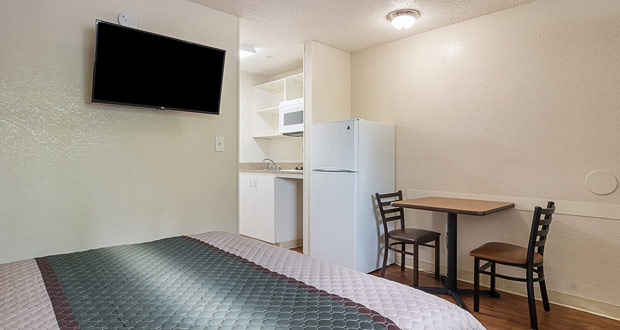 Following more than $50 million in renovations, HomeTowne Studios by Red Roof will provide accommodations with free high-speed WiFi, flat screen HD TVs featuring premium cable with HBO, on-site laundry, and free U.S. phone service. Live-in studios and suites will have a kitchenette with full-size refrigerator, microwave, sink, kitchen table, and chairs. HomeTowne Studios by Red Roof will offer a kitchen kit for a low additional charge that includes a full dish and silverware set that guests can keep after their stay. The hotels will also have new bedding, high-definition televisions, laundry rooms open 24 hours a day, seven days a week, and complimentary coffee in the lobby areas each morning. Properties are located near businesses, local restaurants, and shops.
"At Red Roof, we fully understand what travelers in the extended-stay sector want," notes Marina MacDonald, chief marketing officer, Red Roof. "With HomeTowne Studios by Red Roof, we're providing all the well-known and well-regarded components that Red Roof always has: value, comfort, and friendly service. Now, they're available with the basic essentials of an extended stay, at one of the best-value price points in the hotel industry. All of this is what truly differentiates HomeTowne Studios by Red Roof from the other extended stay choices in the market."