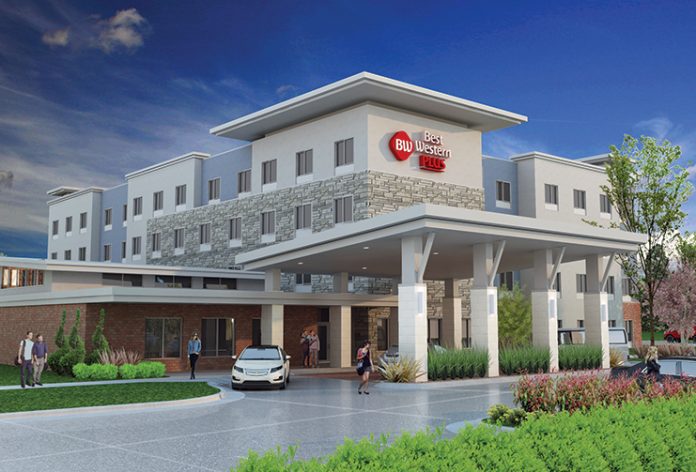 When the Best Western Plus West Lawrence in Lawrence, Kan., opens its doors in October, it is not going to be hurting for business. The property is located right next to Rock Chalk Park, a facility owned and developed by the University of Kansas (KU) for use by student athletes competing in track and field, tennis, softball, and soccer, as well as the Lawrence Sports Pavilion, a 181,000-square-foot facility geared toward youth sports. "Between these two venues, virtually every weekend sees parents and families traveling to Lawrence for their kids to participate in some sporting event," notes Steve Martens, CEO of The Martens Companies, as well as its hotel development arm, Hospitality Development of America. "This made it a natural place to develop a hotel."
Martens' company is putting the final touches on the Best Western Plus West Lawrence, which will have 112 rooms, more than 800 feet of meeting space, and even the means for traveling families to grill on outdoor barbecues. But Martens did more than build a hotel with built-in occupancy drivers. He was familiar with the University of Kansas—of which he is an alumnus—and when the deal was finalized, he contacted the KU Alumni Association to let them know about the project. "After meeting, we put together a very exciting program where the hotel would serve as a strategic partner of the Alumni Association," Martens describes.
This arrangement offers the Best Western Plus West Lawrence exposure to a massive audience before the hotel opens. "It was a great investment because it connects us directly to our target audience. It also lends us credibility. We're an unknown entity in the area, but with our connection to the Alumni Association, people are more willing to take a chance on our new property," he describes.
The property will have full-page ads in the KU alumni magazine, Kansas Alumni, for the next year. The hotel also will sponsor the Association's Game Day at the Adams, tailgate events before all home football games. Hotel representatives will attend the events at the Adams Alumni Center. "We'll be able to set up a table and talk about our hotel at these events. Football starts Labor Day weekend, and we won't be open until late October, which gives us an opportunity to get our name out there and let people know our property is an option when they come to the area," Martens says.
The partnership also will support a new Association program, the Jayhawk Career Network. "This network allows students to connect with alumni, as well as alumni to connect with each other, to boost their careers and further their professional growth," says Teri Harris, vice president of membership and business development for the Association. "The partnership with Steve and his property allows us to generate revenue to support these programs and services." Harris also notes that once the Best Western Plus West Lawrence opens its doors, members of the Alumni Association will be eligible for discounted stays—another added value to the partnership.
Jennifer Jackson Sanner, senior vice president of public affairs and editor of Kansas Alumni magazine, adds that having Martens involved with the Alumni Association has added a lot of value to its offerings. "We really want to foster and encourage conversations between students and alumni, and Steve, as a representative of the hospitality industry, is a valuable resource for our students. He has explored, and succeeded in, so many opportunities throughout his career, and students can learn much from his experience," she says.
And it's not just the connection to the Alumni Association that has positioned the Best Western West Lawrence for success—Martens has been keeping a close eye on other drivers in the area, such as a planned expansion for the Lawrence Memorial Hospital, as well as other initiatives poised to further develop the city's west side.
"As you're looking for markets to develop, SMERF (social, military, education, religious, and fraternal) markets offer a level of stability that you won't find in other areas," he describes. "A lot of excellent product has been brought to the market over the past few years, and supply shortages have largely been met. Hoteliers should be looking for markets with locational and connective advantages, where hotels can partner with SMERF organizations to become a mainstay of that market."