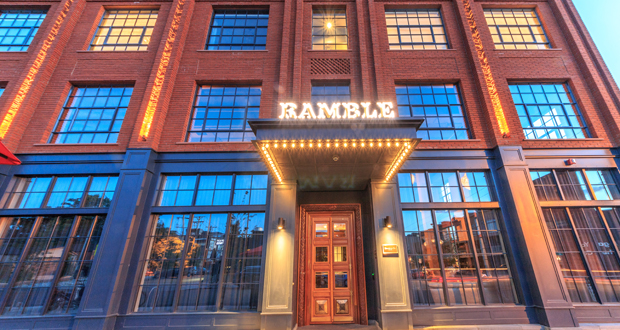 The Ramble Hotel is the first hotel to open among art galleries, studio spaces, and 15 craft breweries in downtown Denver's River North Art District. It is also home to Death & Co Denver, the first Death & Co location outside of the New York City-based cocktail institution's original space. Creating a bar-focused experience is The Ramble Hotel's M.O., as the property also includes Suite 6A, a 20-seat bar; The Garden, an outdoor courtyard bar; DC/AM, a café bar that offers high-quality coffee, tea, and cold press juices, as well as an all-day menu; and the independent pan-Latin restaurant Super Mega Bien.
For entertainment, The Ramble has a flexible theater space called Vauxhall with a dedicated bar that offers a repertoire of regular events. The hotel's 50 guestrooms are decorated in shades of blue and grey, and the walls are insulated to block out noise from the city and other rooms. Each room is has a curated mini bar from Death & Co, wide-plank hickory flooring, Persian rugs, and furniture from Denver-based steel fabricators and woodworkers.
In terms of overall concept, the hotel draws inspiration from French Salons of the 17th century, which were places for sharing ideas and creativity. Industrial materials and dark finishes create a modern aesthetic. A brand consultant from Death & Co worked with the hotel to ensure the Death & Co vibe was apparent in The Ramble's design. Artwork from Denver artists—many of whom are based in the River North Art District—can be found in guestrooms and in public spaces around The Ramble. The hotel is locally owned by founder Ryan Diggins.