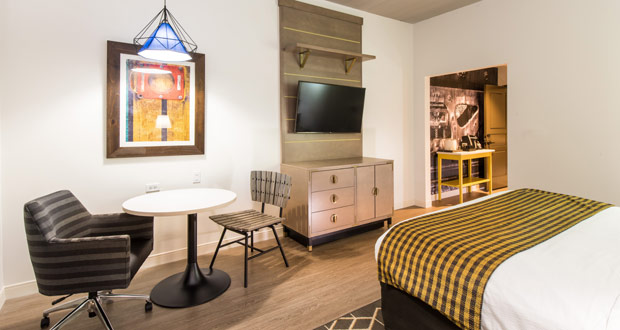 HATTIESBURG, Miss.—On July 26, InterContinental Hotels Group (IHG) opened its newest location, The Hotel Indigo-Hattiesburg — the first and only Hotel Indigo in Mississippi.
The Hotel Indigo-Hattiesburg hotel is located at South 31st Ave. and Chevy Chase Dr. and is within walking distance to the University of Southern Mississippi and The Avenues. The 100-room, five-story boutique hotel has a 24/7 business center with wireless internet and printing available. Other amenities include an on-site fitness center with a variety of equipment pieces. Pets are welcome on the property.
"All of the team is really excited to be a part of this, especially with it being the first one in the state," said Rhonda Cunningham, general manager of Hotel Indigo-Hattiesburg. "This is such a beautiful hotel with custom-detailed work – there's nothing else like it."
Each Hotel Indigo property is uniquely designed to reflect the culture, character, and history of the surrounding neighborhood. The Hotel Indigo-Hattiesburg hotel provides the perfect destination for travelers looking for an experience that is truly reflective of the Hub City's timber and rail industry, as well as the University of Southern Mississippi.
"We have murals throughout that reflect the railroad and timber industry and are very artsy," said Cunningham. "It's not your normal chain, box hotel. We've customized all the features and the décor. We're telling our neighborhood's story."
Guests can also visit Brass Hat, the hotel's restaurant/bar reminiscent of a 1930s railroad dining car. The menu at Brass Hat will be focused on tapas, small plates, and specialty items.
In addition to the on-site restaurant and bar, the hotel has partnered with Hattiesburg's Midtown Donut and The Midtowner for breakfast room service and grab-and-go breakfast items. The hotel will also serve a wide range of local products, including coffee and local craft beers.
"We're very excited for Hotel Indigo to open their doors to Hattiesburg residents and visitors this August," said Micajah Sturdivant, president of MMI Hotel Group. "Plans are underway for a ribbon cutting ceremony, and once the date is set, we encourage the public to attend and find out all The Hotel Indigo-Hattiesburg has to offer."