ATLANTA—InterContinental Hotels Group (IHG) is developing a new InterContinental Hotels & Resorts property in Bellevue, Washington. Developed by Bellevue-based Fortress Development, the new-build hotel is expected to open in Q4 2021 and will be part of a luxury, two-tower, mixed-use development known as Avenue Bellevue.
Located in downtown Bellevue on the northwest corner of Bellevue Way and NE 8th Street, the InterContinental Bellevue at The Avenue will have 252 guestrooms and food and beverage venues—two bars and a restaurant—from the team behind Buddakan NYC. The property will also have 14,250 square feet of meeting space, a grand ballroom and a junior ballroom, a business center, a full-service spa, and a fitness center.
This will be the first InterContinental hotel in the Pacific Northwest and continues IHG's expansion on the West Coast, following recent hotel openings in downtown Los Angeles and San Diego.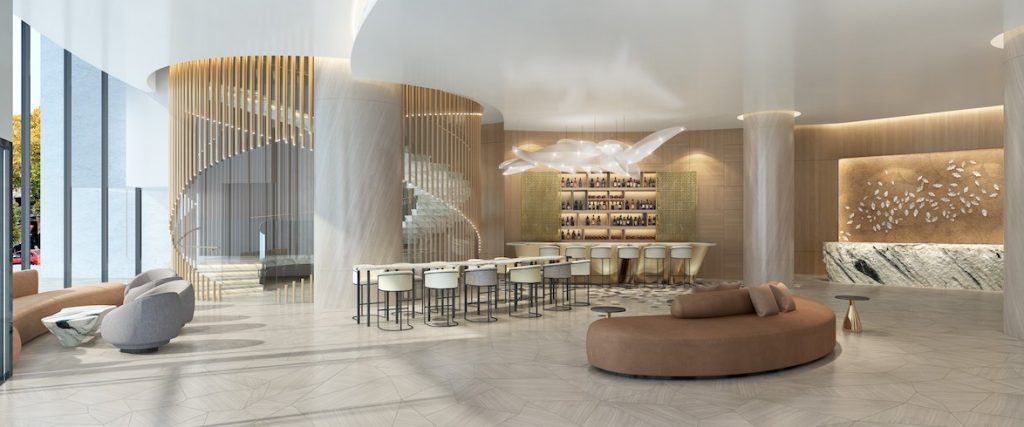 "This stunning new project from Fortress Development will be a beacon of luxury and elegance and will be an outstanding addition to our luxury portfolio as we grow the InterContinental brand in the Americas," Joel Eisemann, chief development officer, Americas, IHG, said. "We look forward to working with Amin Lakha and his team at Fortress on this project and making Bellevue the next destination for the world's largest luxury hotel brand."
Avenue Bellevue will include 332 luxury residences and 85,000 square feet of high-end retail, food, and nightlife—including the sealife-focused restaurant, Angler, from three-Michelin-star chef Joshua Skenes. Fortress is designing the new project in partnership with Weber Thompson, CollinsWoerman, and HBA.
The hotel will occupy the first 11 floors of the 26-story south tower, with 98 luxury "Estate Homes" above it. A second, 25-story west tower will be located across from the hotel and will include the remaining luxury residences.
"As a Bellevue resident for 20 years, I am deeply committed to the future success of the community—and Avenue Bellevue is the biggest and most important project of my life," Fortress Development CEO and Principal Amin "Andy" Lakha said. "We are creating something that will set a new standard for architecture, residential design, and amenities and luxury hospitality in a mixed-use environment, not just for Bellevue but for the entire Pacific Northwest. Growing up in Pakistan, my entire world view of luxury was shaped by the InterContinental Hotel in Karachi, which at the time was the country's only five-star hotel. I am delighted to be able to introduce this revered luxury brand to the Pacific Northwest for the first time."
Construction is anticipated to begin in mid-2019.