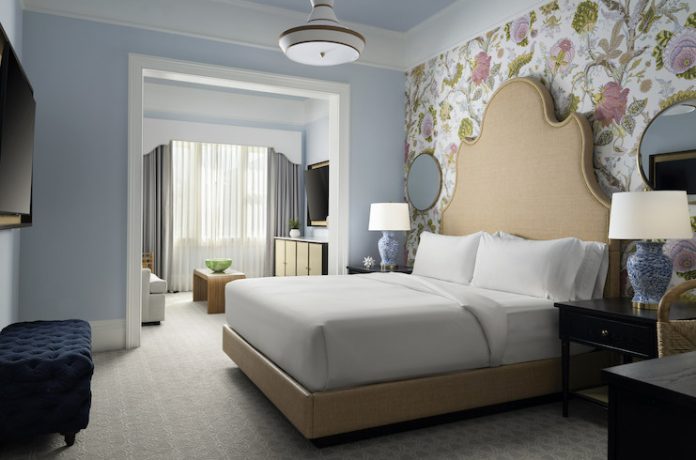 SAN DIEGO—Hotel del Coronado, part of Curio Collection by Hilton, has announced plans to restore and revitalize the hotel's Victorian building with a more than $160 million investment, marking the final phase of Blackstone Real Estate's more than $550 million development plan to preserve and enhance the National Historic Landmark property. The upgrades will encompass all Victorian guestrooms, suites, and event spaces such as the Crown Room, with a targeted completion date of Spring 2025.
"We are thrilled to embark on this exciting and final journey of Blackstone's investment in this one-of-a-kind resort," said Harold Rapoza, managing director, Hotel del Coronado. "The Victorian building holds a special place in the hearts of our guests, and we are dedicated to preserving its historical significance while elevating the bespoke guest experience to new heights."
Rob Harper, head of real estate asset management Americas at Blackstone added, "Since our more than $550 million investment plan began in 2018, we have worked diligently to preserve the Del as a National Historic Landmark while cementing the property's status as an iconic and timeless destination for generations to come. We are immensely proud of the thoughtful work completed to date and look forward to partnering with the local teams to make this next phase of the project a reality."
For more than 135 years, Hotel del Coronado has welcomed travelers to experience Southern California. The Victorian building is the original beachfront hotel established in 1888.
Led by Wimberly Interiors in partnership with WATG's California architecture studio, the design for the Victorian building shows the legacy of the property, ensuring the public areas remain Victorian with original finishes remaining intact, but with contemporary design enhancements to bathrooms, furnishing, artwork, and technologies. David Marshall of Heritage Architecture & Planning is leading The Victorian guestroom redesign effort.
Beginning in 2018, Hotel del Coronado embarked on a renovation and development plan, facilitated by Blackstone Real Estate.