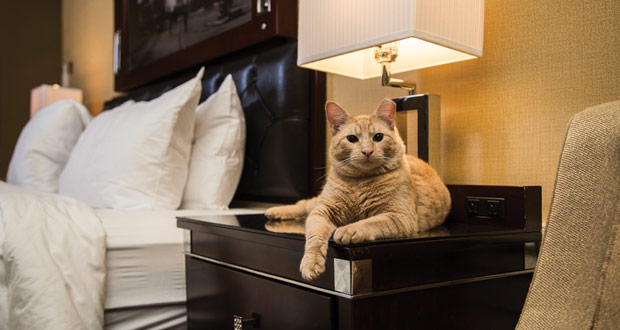 In the 1920s, Frank Case, the owner and manager of The Algonquin Hotel, kept a cat named Billy. Billy lived at the Algonquin for 15 years, becoming a well-known entity at the property. Shortly after Billy's passing, a marmalade-colored cat wandered into the hotel looking for a home. Case decided to keep this new furry friend, and thus began the tradition of The Algonquin Hotel's resident cat.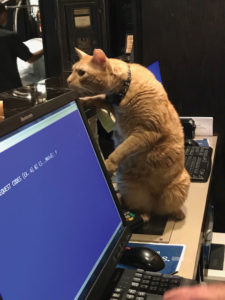 Since the 1920s, The Algonquin has had 12 resident cats; males are named Hamlet and females are named Matilda. Every single one of these cats were adopted from a shelter or rescue organization. Today, a ginger tabby cat, the eighth Hamlet, calls the hotel home. He—and all Hamlets prior—was named after actor John Barrymore, a frequent hotel guest, whose most popular role at the time was Hamlet.
Now, Hamlet isn't just a pet, but also a marketing tool for The Algonquin, and guests and visitors often come just to see him. Alice de Almeida, chief cat officer at the property, explains, "He's an attraction and an amenity. The associates all love him and enjoy playing with him and being with him. When guests come in, they're surprised and delighted. People that don't even stay here come just to see him. Hamlet has a huge fan base."
The current Hamlet enjoys spending time with associates and customers alike, despite coming from a feral colony on Long Island. According to de Almeida, Hamlet's favorite space to rest is behind the front desk when associates are working. She describes, "He's a real people-person. I have honestly never seen a cat like this before."
When Hamlet wants alone time, the hotel has plenty of space for him to explore and hide. With multiple tree houses, Hamlet can climb to areas where he can't be bothered, and his food, litter, and sleeping space are located in an associates-only room.
Maintaining and caring for Hamlet is fairly simple. Sponsorships help cover the cost of food and litter, and different associates are responsible for taking care of Hamlet's general well-being. He also has an automatic feeder and litter box.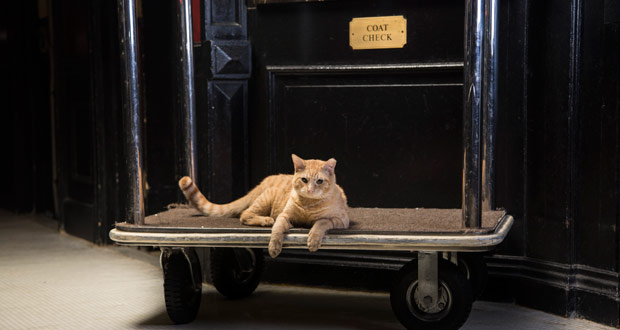 While Hamlet isn't all that demanding, de Almeida says that hoteliers and managers interested in adopting a property pet or starting a new pet-friendly program need to ensure that all staff members are on board and will enjoy taking care of and playing with the pet, and that their typical guest would enjoy interacting with an animal. "Not all people are pet people," de Almeida notes. "If a hotel is concerned with how staff and guests will react, taking a survey is an easy way to get data on the property's general reactions."
de Almeida also says that any animal in a hotel has to be a good fit for the hospitality lifestyle. "You have to vet the animal and make sure you get one with the right personality. People around him or her need to like cats because if they don't, the cat won't be treated well." She adds, "There are cats out there like Hamlet that love people, but some cats are shy and run when they hear a sound. You need to interview the cat just like an employee. And remember, adoption is the only option."