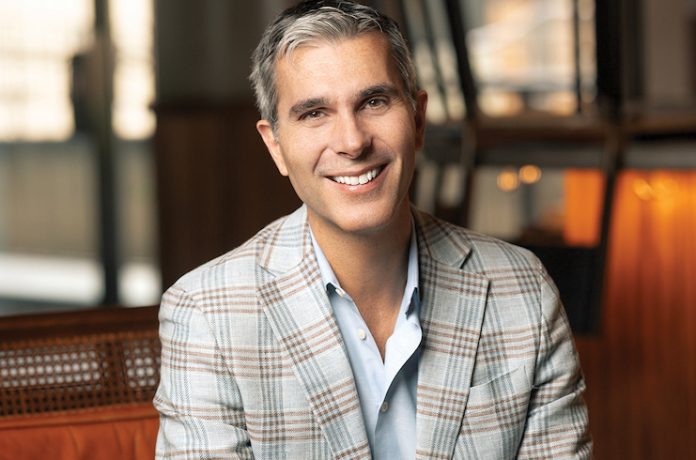 Daniel del Olmo joined Sage Hospitality Group at a challenging time, just as the world was facing the reality of a global pandemic in 2020. But overcoming challenges was nothing new to this Belgian-born son of a Spanish father and Italian mother, who, as he described for LODGING, began his steepest professional ascents amid the turbulence following 9/11. Now, with more than 25 years of experience in growing hospitality brands and nurturing successful partnerships in over 70 countries, he leads a team of thousands of associates across a portfolio of more than 110 lifestyle hotels, restaurants, and entertainment venues in the United States. His leadership philosophy has evolved from his own love of travel to a broader worldview, one grounded in community, the arts, sustainable living, and the words of poet Maya Angelou: "People will forget what you said, people will forget what you did, but people will never forget how you made them feel."
Background
Del Olmo, who speaks six languages thanks to a multicultural family including grandparents that spoke only Italian on one side and Spanish on the other, said the hospitality business was a natural choice for people like him with a desire to see the world while engaged in work they love. It was also familiar territory: From age 2, he was taken from one property to another around the world with his parents, as his international hotel chain marketing executive father modeled what he called "a servant leadership" approach that deeply influenced his own approach to leadership.
Del Olmo called his first job in hospitality while attending college—at a Belgian McDonald's when he was 18—"foundational" as it was there he learned the basics of the hospitality business. "There was teamwork and accountability, training on operating standards and procedures, and at the end of a 30-hour week, there was a healthy paycheck for a student," he recalled.
Education and Early Career
After acquiring a college degree in economics and then a master's in business, del Olmo became director of marketing & e-commerce at Spain-based Meliá Hotels International, which had luxury properties across Latin America and the Caribbean. Beyond his facility with language, he found his multicultural background advantageous in bridging cultures among potential business partners. "This was the first time I used my fluency in Spanish to conduct business," he said. "I also understood it wasn't enough to know the language in different Latin American countries. There were different cultures, different approaches to business. Unlike in America, where business was relatively straightforward, this was just not the case outside the U.S. For example, in Brazil, you have to first invest time getting to know each other before there is any opportunity to get a business deal done. I was able to bring that understanding to the U.S.-based companies that I was working with and became essentially a business translator of sorts."
Wyndham Years
After four years at Meliá and another two at Amadeus Hospitality, in 2002 del Olmo joined Wyndham as director of marketing. He left in 2013 as senior vice president & managing director, Latin America. During that period, he served as vice president, international marketing & strategy, developing strategic, operating, and marketing plans for Wyndham Hotel Group's International brand portfolio. He was also instrumental in launching the Wyndham brand in Europe, including The Wyndham Grand Collection. In 2005, as vice president, international marketing & strategy, he oversaw the creation of an international division by acquiring Ramada International from Marriott, which increased Wyndham's worldwide portfolio from 40 to 250 hotels, largely by franchising.
With new CEO Eric Danziger at the helm and the Great Recession wreaking havoc on the industry, in 2008, del Olmo was named vice president, global strategy & innovation, functioning as the primary lead in developing the company's strategy and identifying relevant business innovation opportunities during that difficult time. Danziger, he said, "really took a chance on me." He named del Olmo both chief performance officer and brand senior vice president, TRYP by Wyndham in 2009, made him the youngest member of the executive committee in 2010, and installed him in his final position, senior vice president & managing director, Latin America, in 2011. "What he instilled in me stays with me to this day. He always said successful teams are about bringing people together as a team and understand that what brings them together is having like hearts, yet different minds," said del Olmo.
After Wyndham
Del Olmo called his time at Wyndham "a great 11 years." But, ready for a top leadership position, he accepted one as president of Dine Equity (now Dine Brands) in 2013, building their international business, which became a growth engine. He also became involved in various entrepreneurial ventures under the auspices of the Passionality Group, a company he cofounded in 2016 in collaboration with a series of partners—all of whom he worked with throughout his career. Passionality, he said, was conceived to advise and invest in emerging hospitality brands that "exude authenticity, drive innovation, and exhibit meaningful potential for growth."
Fulfilling as these ventures were, del Olmo came to recognize that the vision he was embracing had its limitations. The opportunity to have it all—leading with purpose, a sense of community, the arts, and sustainable living, along with significant growth—came the day he met with Sage's cofounder and CEO, Walter Isenberg. "It was sort of love at first sight because our philosophies and our purpose aligned. I saw with Sage an opportunity to hitch my passion for innovative hospitality to a highly respected, established organization that has been around for nearly 40 years with amazing people and a legitimate desire to serve the community and all our stakeholders," he explained.
Del Olmo and Isenberg started working together just a few months before the world came to a standstill. "The experience for me of coming through the pandemic—including the need to furlough 5,700 people in one day, and do it gracefully and with the greatest possible care for our fellow associates—together is something I'll never forget and for which I will be forever grateful. It made us a stronger organization. It strengthened our relationships with all our partners, who in turn, gave us more opportunities later because they felt we had been true partners during the pandemic. It was a real paying-it-forward moment, when what we were doing just felt right, however difficult every decision was," described del Olmo.
Change in Perspective
Del Olmo spoke of his own transformation over the years, from the young man who chose hospitality out of a desire to see the world, to the seasoned hospitality leader who wants to make that world a better place. "In the past five to 10 years, I've become much more attracted to and focused on organizations that are led by purpose and community," he shared. "I've embraced the notion of really helping communities beyond just doing things because it sounds good in the corporate ESG report or in social media posts." He said he no longer hesitates to show his authentic self, vulnerabilities and all, believing it empowers others to do the same. "Being our genuine selves, driven by different minds and like hearts, can ultimately have positive impacts," he said.
Del Olmo also measures his own success largely by the satisfaction he derives from emulating his own mentors, including his father, Luis, Danziger, and Isenberg. "Ultimately, my greatest successes are represented by seeing the people I've worked alongside and where they are today as a result of our shared experiences—not just from a standpoint of professional growth, but also from their growth as human beings."
---
Partnering From the Heart: Habitas and Saira Combat Unemployment With Hospitality Education
In 2019, Sage Hospitality Group President Daniel del Olmo established a partnership to transform the way hotels connect with local communities through education. Habitas—an emerging hospitality brand del Olmo supported while leading his consultancy Passionality Group—and Saira Hospitality—a nonprofit led by Founder & CEO Harsha L'Acqua—collaborated with hotels to create pop-up schools that provided local communities with the knowledge and skills they needed to build a career in hospitality. The goal is to create dedicated, engaged workforces, improve community diplomacy, and significantly reduce staff turnover for hotels, while providing life-changing employment opportunities for those who need it the most.
Just before joining Sage, del Olmo helped Habitas open its second location in Namibia, Africa with Saira, whose community was facing about 50 percent unemployment. The organization created an immersive, complimentary eight-week hospitality training program to pique interest in hospitality and provide a direct employment opportunity, after which Habitas hired some 70 of those trainees who completed the program.