This week, 2,500 hotel owners, operators, and hospitality professionals converged on the Gaylord Texan Resort & Convention Center in Grapevine, Texas, for the 2018 Best Western North American Convention and Conference. The conference showcased the Best Western of today and tomorrow through its theme 'Today's Best Western' and the company shared the details of several new initiatives with hoteliers: the company's new Sadie and Aiden boutique conversion brands; additions to its Best Western Rewards (BWR) program including a new chatbot, points for dining, and points as cash through Apple Pay and Google Pay; the Best Western Business Advantage program; and rolling out three new prototypes for its Best Western, Best Western Plus, and Best Western Premier brands.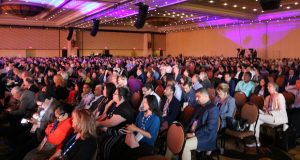 Through these new initiatives and innovations, the company is looking to appeal to guests' changing needs, as well as the next generation of hotel owners. David Kong, CEO of Best Western, told LODGING that this next generation of hoteliers are not afraid to take risks. "They are just out of the box thinkers, very much risk-takers, and I'm so enthused and excited about them," he explained. "They're shifting the industry in a big way. You look at the design of hotels nowadays, you look at technology in hotels—I think they have a big impact."
Kong added that owners must think about how the industry is changing and find more innovative ways of competing in the future. "On the one hand, you've got all this competition entering our markets, and at the same time, owners are thinking creatively about how they're going to compete—whether they spend more money on innovation, hire and train people better to service the guest, or focus on sales," Kong said.
New Brands and Conversion Opportunities
At The Lodging Conference, Best Western announced two new boutique conversion brands, Sadie Hotel and Aiden Hotel. The upscale and upper-midscale brands, respectively, give developers an opportunity to reposition existing properties to improve performance and enhance their value, while taking advantage of Best Western's systems, support, and scale. Kong explained the three differentiators for the brands are how its is designed, the conversion process and quick ramp up, and its social playbook. The brands will work closely with hoteliers to incorporate that owner's vision. "We want owners to incorporate local flair so it's a local experience," Kong explained. "We want to help, with our design team, in bringing that vision to life and giving character and personality to the hotel."
The brands also have a dedicated team to guide owners through the conversion process—understand the market, the competition, and how to leverage revenue channels. "We have to integrate the hotel with our revenue engines very quickly for a quick ramp up. That dedicated team is crucial for success," Kong said.
To generate buzz around the properties, the brands have a social media playbook that tap into Best Western's relationships with influencers and bloggers. "We want this hotel to be the most talked about hotel in the marketplace," Kong added.
Sadie and Aiden bring Best Western's portfolio to 13 brands. During the conference, Kong emphasized to hoteliers that scale is critical for the company to protect and grow its market share. "If today's Best Western wants to be relevant, we need to have exciting and contemporary products that enhance our image and broaden our appeal," Kong told hoteliers. "Our clients and guests certainly feel that way."
Driving Business Travel
Jim Cosgrove, 2018 Board Chairman, told LODGING that to deliver more business to owners, Best Western is also working to drive business travel to its hotels. "We are always strong on leisure, we've had a concerted effort on the business front," Cosgrove explained. "The increase and enhancements we've made to our worldwide sales team will help deliver business."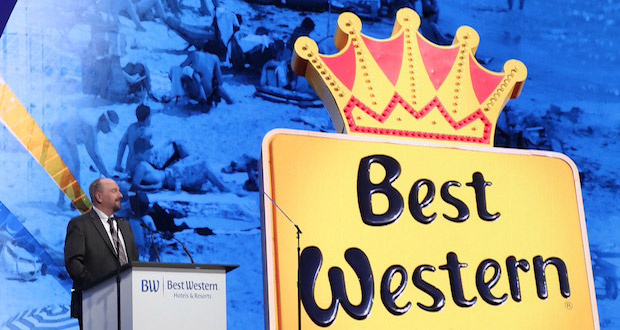 Dorothy Dowling, Best Western's senior vice president and chief marketing officer who was recently named the Global Business Travel Association's 2018 Allied Member of the Year, explained to LODGING that programs like Best Western Business Advantage developed for small and medium enterprises are critical. "We looking for hoteliers to engage with their locally negotiated accounts because it gives them global breadth of having the backbone of the brand behind them in terms of offers, rates, and messaging tools," Dowling explained. "Today, in the environment that we're in as new supply comes in—and particularly new construction supply—our hotels have to work hard to continue to retain their customers."
Artificial Intelligence
During the convention, Best Western announced its BWR Chat Bot, which leverages artificial intelligence (AI) to provide a convenient and quick-to-access way for BWR members to ask questions and request information. Dowling said that adding the chatbot is a strategic investment in the future of how guests want to communicate.
"They don't want to be picking up the phone anymore, and they don't want to be waiting for answers," Dowling explained, adding that some of the free-form questions that guests ask help the company better understand what customers really want to know and the chatbot also serves as a way for customers to engage when they have feedback. "It's extremely helpful because even though it's through AI, we have a human attached to it so that individuals can still connect."
Best Western is exploring AI in others ways as well, namely, a partnership launched earlier this year with IBM Watson. IBM Watson Advertising and Best Western teamed up to create interactive AI-powered ads. Best Western became the first hospitality brand to launch a Watson Ads campaign, which run in other industries including automotive, consumer healthcare, consumer packaged goods, and entertainment.
Expanding BWR Perks
In addition to its chatbot, Best Western announced new loyalty perks including points off dining and points that can be redeemed as cash through Apple Pay and Google Pay. Members will be able to earn BWR points while dining at any of the company's more than 11,000 network restaurants in the United States, and soon in Canada. Members will be able to earn BWR points when they're not traveling and accumulate more points toward free nights and other redemption options.
Those other redemption options now include BW Rewards Pay, which allows members to redeem their points as cash through their smartphone mobile wallets at merchants like Starbucks, The Apple Store, Best Buy, Macy's, Walgreens, Trader Joe's, and more.
Dowling added that while most members are looking for free nights, other redemption options appeal to road warriors, especially.
New Prototypes and Growing Scale
During the convention, Best Western also unveiled three new prototypes that will modernize its Best Western, Best Western Plus, and Best Western Premier brands. The new prototypes are expected to roll out by the end of 2018. The move comes on the heels of the company's brand refresh, which began in 2015 and unveiled a new look and brand portfolio—including newer brands like Vīb and GLō, which opened its first property in DeSoto, Texas, earlier this week.
"I think right now we're in a good place. What we need to do is fully leverage our 13 brands to grow," Kong said. "We always look out for new opportunities—if we see something exciting, we certainly want to explore that."