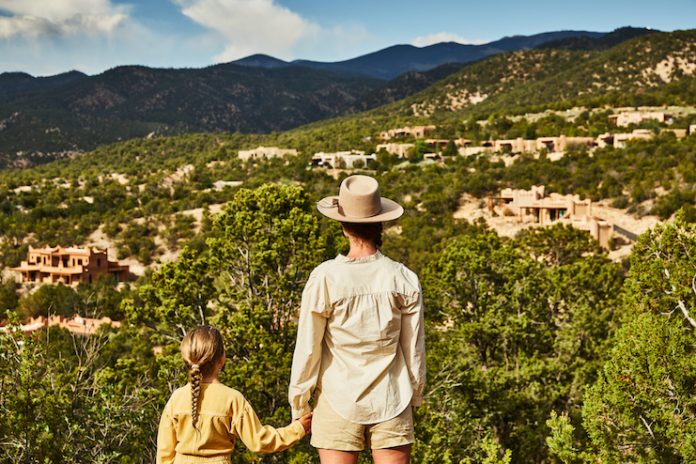 MILL VALLEY, California—Auberge Resorts Collection introduces Enriching Lives, a social program that aims to help the lives of communities through education and learning where Auberge Resorts Collection properties operate. Driven by a mission to create opportunities that make a difference, each property team will offer mentorships, raise money for various nonprofit organizations and scholarships through fundraising events, or volunteer time and resources to uplift those in need. From establishing on-site educational programs that result in job opportunities to facilitating nature-based activities for inner-city adolescents, Auberge Resorts Collection's Enriching Lives program creates opportunities.
"Our hotels have been supporting their local communities since they opened their doors," said Craig Reid, CEO and president, Auberge Resorts Collection. "Our Enriching Lives program strives to deepen the impact we make through new education and learning opportunities. It is a program that allows our guests and team members to invest in our neighborhoods and positively impact the integral development of our youth and those in need."
Auberge Resorts Collection's Enriching Lives programs includes:
The Lodge at Blue Sky, Auberge Resorts Collection in Park City, Utah is working with the nonprofit Voice for Nature to provide urban adolescents an opportunity to foster a deep connection with nature.
Hacienda AltaGracia, Auberge Resorts Collection in Costa Rica, and Flying Horse Foundation are committed to advancing the wellbeing of at-risk youth in the community. AltaGracia donates its facilities, horses, and wranglers to support the nonprofit's equine-assisted learning program led by trained professionals and the resort's team.
Malliohauna, Auberge Resorts Collection in Anguilla is working with Alwyn Allison Richardson Primary School (AARPS) to create and maintain an organic vegetable garden based on sustainable agricultural practices. The goal is to reintroduce farming to the island of Anguilla, which currently depends on imports for a significant portion of its produce.
Madeline Hotel & Residences, Auberge Resorts Collection in Telluride, Colorado has partnered with the Colorado chapter of the Wildlife Conservation Society (WCS) and the Blackfeet Nation to help regenerate the once-native American Bison in southwest Colorado. During the year, the hotel will host a series of experiential fundraising events from chef-led cookouts to ice skating.
Esperanza, Auberge Resorts Collection and Chileno Bay Resort & Residences, Auberge Resorts Collection have joined two programs to support the local Los Cabos community. In partnership with the Green Scholarship Program, the properties have established an annual education scholarship fund that awards two promising female students studying tourism or marine biology during the first year of university tuition.
Esperanza, Auberge Resorts Collection and Chileno Bay Resort & Residences, Auberge Resorts Collection are also supporting Coperativa Alvarez, a fishing collective of 20 families in Baja California Sur's Magdalena Bay.
Bishop's Lodge, Auberge Resorts Collection in Santa Fe, New Mexico has formed a partnership with YouthWorks, an organization serving at-risk and disadvantaged youth in northern New Mexico. In addition to ongoing donations, team members provide regular mentorship, job shadowing, and job opportunities for the youth.
Solage, Auberge Resorts Collection in Napa Valley, California, has committed to creating educational programming that fosters creative expression, nurtures curiosity, and builds a sense of community. The resort invites guests to participate in art events supporting classes, workshops, and camps put on by Nimbus Arts, a nonprofit that makes art available to local children, adults, and seniors.
Auberge du Soleil continues its partnership with the nonprofit, Napa Valley Vine Trail, committed to developing a 47-mile safe and scenic walking and biking trail stretching the length of the Valley.
Element 52, Auberge Resorts Collection aims to educate the Telluride, Colorado community about backcountry safety through a partnership with PI Avalanche Fund, whose mission is to keep outdoor enthusiasts safe by providing avalanche education and backcountry user awareness.
The Vanderbilt, Auberge Resorts Collection in Newport, Rhode Island has joined forces with the Women's Resource Center of Newport, a nonprofit that empowers victims of domestic violence through education, support, and advocacy programs.
Hotel Jerome, Auberge Resorts Collection in Aspen, Colorado has partnered with LIFT-UP, a nonprofit that aids those suffering from food insecurity.
Auberge Beach Residences in Fort Lauderdale, Florida, has joined forces with the National Save the Sea Turtle Foundation to protect threatened and endangered sea turtles that nest along Florida's coast.
Primland, Auberge Resorts Collection in Virginia's Blue Ridge Mountains, is committed to supporting the Patrick County Community Food Bank by raising funds and donating proceeds from food and drink offerings.
Mauna Lani, Auberge Resorts Collection in Hawai'i and nonprofit Māla'ai have come together to support students at Waimea Middle School, offering horticulture experience by growing and harvesting fresh fruits and vegetables at the resort's Living Garden.
Mayflower Inn & Spa, Auberge Resorts Collection in Washington, Connecticut, has aligned with the Shepaug Valley Partnership, a community-based transition program designed to assist students with additional needs as they transition from school to adult life with personalized vocational plans. As part of the program, the hotel offers employment opportunities to students in the program where they receive experience in the hospitality industry and build life skills.
White Barn Inn, Auberge Resorts Collection in Kennebunk, Maine, is promoting a sustainable fishing future with Maine Coast Fishermen's Association (MCFA), which enhances the sustainability of local fisheries by advocating for fair market prices, upholding cultural traditions, and providing food to public schools and food banks.
Commodore Perry Estate, Auberge Resorts Collection in Austin, Texas, has committed to nourishing Austin's farm-based youth leadership organization, Urban Roots, which has been empowering youth for more than ten years on its 3.5-acre farm in East Austin.