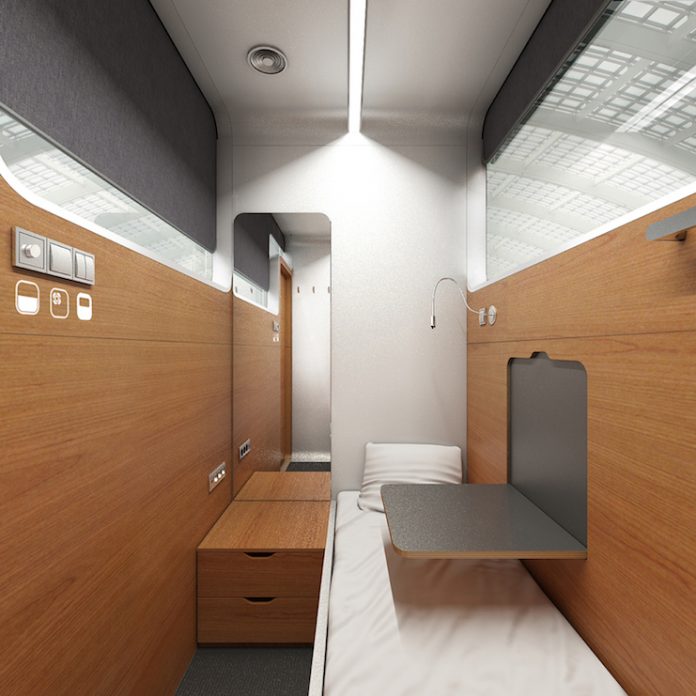 Resting on the floor of an airport can be a difficult experience to avoid for frequent fliers. Travelers attempt to entertain themselves with reading, working, or playing games on portable devices, and are often unable to recharge once their batteries deplete. Sleepbox, a new plug-in room brand coming to Dulles International Airport in Washington, D.C, is aiming to solve that issue once and for all.
Mikhail Krymov, co-founder and CEO of Sleepbox, says, "It's a plug-in hotel room. It's a hotel room as a device. You can't just apply all the hotel relations to it because it's not a whole hotel. But some of those hotel requirements are applicable. This is an interesting research piece. We're finding that new niche."
Creating this new niche is important to grow the Sleepbox brand. Various airports have different regulations, and because it's past airport security, Sleepbox must keep up with the rules and regulations in the space, which are entirely different than those that apply to hotels. David Shove-Brown, principal and co-founder of Sleepbox's design team //3877, says, "This addresses the need of recharging for two hours without having to go back through security to rent a hotel room. This mitigates that. Travelers can just get their Sleepbox and they're not losing time standing in 18 different lines again. This helps immensely with that."
Guests can rent a Sleepbox room from between one and 24 hours with 15-minute increments. Rooms come in four different sizes: a room with a single bed; a room with a queen bed; a compact room with a standard bed but less usable space; and an ADA-compliant room. Rooms come equipped with charging ports to plug in all personal devices and are soundproof.
"It's not just about sleep. It's about privacy. It's about a big problem of lack of privacy in the world we built," Krymov says. "Life scenarios have become more unpredictable, flexible, and spontaneous. And that's good. That's freedom. But we can't really find privacy when we need it. That's a problem. That's our freedom to live the way we want. The world should be adjusted a little bit, and this service should be added for people to live more productive lives."
And this concept isn't just needed in the United States—while modular hotels are popular around the globe, Sleepbox is a different concept in and of itself. The rentable rooms can be implemented at any place where people may need privacy and rejuvenation—not only airports, but potentially places like hospitals, too.
Once Sleepbox grows, hotel brands might see this concept and attempt to create their own micro-hotel brands. Sleepbox, however, plans to continue to lead the market. Krymov says, "We're the first movers. We're in this position of doing great now, and we'll continue to do that. And there are different layers of intellectual property, so leading from alterations, development, repetition, trustworthy users, app installed on users' phones, and the support of our community, we plan to stay on top. Users will benefit from having one major provider and brand in this space because it's new."
Sleepbox hopes to grow into more airports and markets in the future in partnership with //3877. Mikhail says "Our goal is to make the solution as scalable and consistent as possible to be able to provide it in different settings, countries, and airports. That's exactly the plan. And if we do our job well, we'll be able to see Sleepboxes in dozens of airports in just years."
---
Like this story? Subscribe for daily updates.