Chattanooga, Tenn.—Vision Hospitality Group unveiled plans for its newest boutique hospitality brand, Kinley. Kinley will be part of the overarching company's new Humanist lifestyle portfolio, debuting in Cincinnati, Ohio, in late 2019, followed by Chattanooga, Tenn., in 2020. The new portfolio will also include The Grady Hotel, set to open next year in downtown Louisville, Kentucky, in addition to other lifestyle properties.
Launching in November, the mission of Humanist is to foster meaningful human interactions, memorable experiences, and vibrant communities. The new, boutique hospitality company will specialize in concepting, designing, developing, and managing lifestyle hotels and restaurants in America's most up-and-coming cities and neighborhoods, emphasizing immersive experiences and community engagement.
"Humanist is bringing the hotel experience back to the root of what makes traveling such a desirable pastime–connecting with other travelers, connecting with the community you've come to explore, and connecting with yourself," said Mitch Patel, CEO of Vision Hospitality Group. "Whether staying for a night, indulging in a drink, or exploring a destination, we welcome you to come as you are, and experience what true hospitality is all about. From Cincinnati to Chattanooga and beyond, we are excited to welcome visitors to America's most captivating small cities and neighborhoods."
Kinley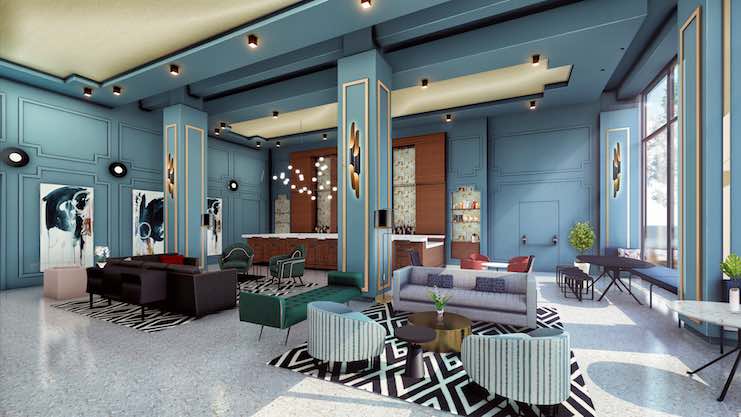 As the inaugural brand launch under Humanist, Kinley will provide a home base for active explorers and casual adventurers, a focal point that is integrated into the local community and the world outside its doors. Derived from the word kinship and based around the brand's mantra of "Sincerely Yours", the name speaks to the brand's inclusive nature–a place where it's easy to feel connected and at home. Each hotel will channel the vibe and energy of the surrounding community in which it resides, all with a distinctly small-city sensibility and genuine charm.
The uncheck-in desk at Kinley provides a place for guests to touch down without the formality of a standard desk, and items from regional artisans will be on display and available for purchase. Arts and crafts from local purveyors and lounge seating inviting travelers to sit and stay awhile in Kinley's various public spaces. Guests will also have the option to share their experiences, highlighting both indoor and outdoor discoverable moments found in each city.
Kinley's first property will debut in Cincinnati in late 2019. Built in 1910, the property is located between Downtown and the Over The Rhine neighborhood, providing a central location in the heart of the Queen City. Kinley Cincinnati will have 94 guestrooms and suites.
As part of its debut, the property will include a three-meal restaurant—Watercress. Developed in partnership with James Beard Award finalist and PBS' Mind of a Chef host Edward Lee, the new concept will launch alongside the hotel and will be led by Cincinnati-born Chef Kevin Ashworth. The restaurant will reflect its context within the Kinley while using industrial materials and natural throughout the space.
Kinley's second location will be a 64-guestroom property located in Chattanooga, Tennessee's Southside entertainment district, and will launch in 2020.
The Grady Hotel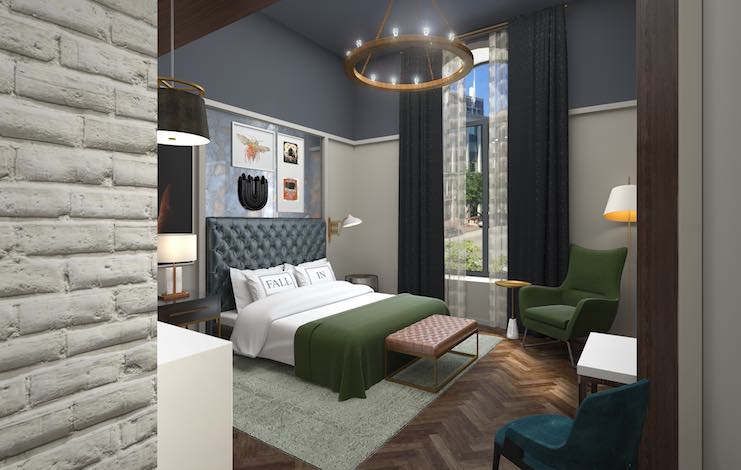 The Grady Hotel is a 51-room, luxury boutique hotel in downtown Louisville, created to honor its hometown. The hotel is named for the late Grady Clay, a local journalist and key contributor to the New Urbanism movement. Each of its 51 guestrooms provides pops of navy, copper, and maroon, with wood-paneled floors, tufted headboards, and locally-inspired art. Similarly, the hotel's public spaces will have warm tones, complete with a library area and a fireplace for guests to gather.
Located in the city's downtown area, the property is near steps away from the Frazier History Museum, the Louisville Slugger Museum, and many of the area's restaurants and bars.
The hotel will also be home to Wild Swann, a speakeasy steeped in Louisville history, offering a fresh take on craft cocktails and small plates. The concept takes its name from Swann-Abram Hat Co., one of the original residents of the building beginning in the 1920s and most prominently known for designing the first hats worn at the Kentucky Derby.