With suburban hotel performance surpassing the growth rate for urban properties, many hoteliers are turning to secondary and tertiary markets to meet the demand for up-and-coming travel destinations. Among them is the management company Charlestowne Hotels. Its President and CEO Michael W. Tall says that the company is making the growth of boutique properties in second- and third-tier cities a main focus of their 2019 business plan. In a recent interview with LODGING, Tall described this tertiary-tier tourism boom and his company's participation in it.
Tall notes growing interest in secondary and tertiary markets across the industry. "Now more than ever, the interests of travelers—including those termed 'adventure travelers'—are piqued by the unknown and unseen. As a result, travel to small, off­-the-­beaten­-path towns has grown." However, he observes, a significant portion of these travelers have no interest in roughing it. "They bring with them their big-city expectations: Even a one-stoplight town needs quality and interesting accommodations."
Tall says Charlestowne recognized a need for such accommodations via lifestyle hotels that connect with their local community and deliver an authentic sense of place in these markets—including university towns and others considered to be "under the radar". Tall points out numerous advantages of university markets in particular, including their consistency and predictability.
"In addition to their ability to harness the nostalgia of alumni and the excitement of prospective students in a way that the franchised brands that dominate that market cannot, university markets don't usually experience the same level of fluctuation or seasonality that other markets experience during downturns and boom cycles," Tall explains. "Unlike markets that are heavily leisure reliant—with strong weekend demand but weak mid­week demand—there is usually mid­week corporate demand as well as high weekend demand, especially when there are major events such as parents day, commencement, athletic, and cultural events."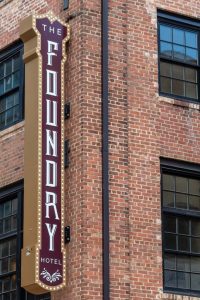 In areas where there aren't other diverse demand generators, Tall says it is especially important to focus on delivering the special connection to the local culture that visitors to tertiary markets are seeking. "These hotels have the potential to become an adjunct visitor's bureau for their respective towns," Tall explains, adding that, therefore, they should develop close working relationships with the city and/or university, and make sure the front-of-the-house staff is knowledgeable about the town's special charms.
"Travelers are becoming more invested in the people and personalities that make up a destination, and something that goes hand in hand with the local experience is having thoughtful staff members who are passionate about their hometown and able to share the city's top secrets—from a beloved local restaurant to the best shopping, coffee shops, and cocktail bars," Tall says.
Third-tier cities may be a good fit for boutique hotels and conversations, but the ability of investors to secure financing is hindered by the dearth of data on their viability, Tall explains. "Boutique hotel projects in smaller markets may be in locations where there is no existing set of comparable hotels to provide reasonable assumptions for the development project's viability," Tall says, citing Charlestowne's Sewanee Inn in Tennessee as a case in point. "A research firm told the developers they would be lucky if they could break even after opening. The project went forward in spite of this report, and within the first full calendar year of operation, we reached occupancy and average rates that most city hotels would envy—producing very healthy income results."
A significant factor in this trend is that both guests and hoteliers can tap into luxury at a lower price point in areas with a lower cost of living. "Non­-gateway cities are optimal entry points to demonstrate high-quality hospitality for the newest generation of travelers, who are put off by the high-priced glitz of some already saturated major cities," Tall explains.
Job growth and lower rents also bring this same demographic to these cities to work and live. "These towns and cities are on the cusp of prime time, just as high-end travelers are looking for new places to explore." Tall further claims that establishing an impressive presence in up-and-coming locations cans actually help put them on the map. "Often, all it takes for a secondary city to make the front page in consumers' minds is the opening of its first high-end property."