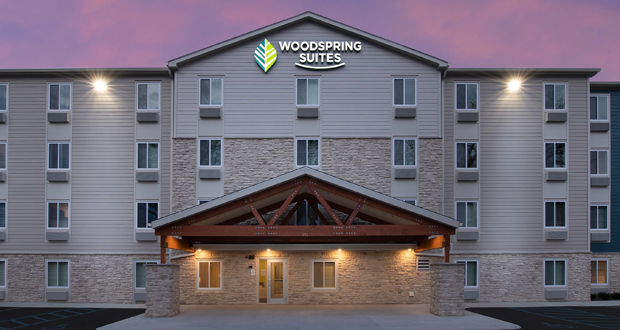 Choice Hotels is perhaps best known for its robust portfolio of midscale and economy properties, but this is an image that the company has been actively working to expand in recent years. A strong focus on the upscale segment has led to immense success for Choice's Cambria brand over the past few years, and in 2017, the company decided to shore up its extended-stay offerings with the purchase of WoodSpring Suites.
After the acquisition was finalized in February of this year, the first quarter was very profitable for both the brand and Choice. In Q1, the company signed 33 new franchise agreements, only two of which had been in the works prior to the deal. The acquisition also nearly tripled Choice's extended-stay portfolio. WoodSpring Suites' RevPAR in Q1 2018 increased 13.5 percent year-over-year, and 17 hotel openings and 50 groundbreakings are planned for 2018. Some of the brand's first openings for Choice include: WoodSpring Suites Chicago Tinley Park, Ill.; WoodSpring Suites Detroit Rochester Hills, Mich. (Near Pontiac, Troy, and Rochester Hills); WoodSpring Providence, R.I.; and WoodSpring Suites Seattle Redmond, a 16-mile drive from Seattle, Wash.
WoodSpring Suites had been a successful and growing brand prior to the acquisition, making it an interesting and adoptable brand for Choice.
There has always been a need for extended-stay hotels, but it seems that only recently has the segment began getting industry and consumer attention. At Choice's 2018 annual convention in May, Ralph Thiergart, vice president and general manager of extended-stay brands for Choice, commented on consumer awareness of extended-stay. He said, "What sprang into existence was this consumer awareness, and our industry has done a really good job over the years crafting different products at different price points to give people choices to accommodate that longer need."
Choice is continuing to accommodate that consumer and employee need by working with associates and franchisees who are familiar with the WoodSpring brand. Choice executives have also been meticulously considering what does and does not work for the brand—keeping what is successful and changing what is needed. Thiergart adds, "The WoodSpring associates are getting the opportunity to have what we offer at Choice, and that can help them specifically in the onboarding process. We're listening and learning."
More from LODGING's 2018 Franchise Guide here.