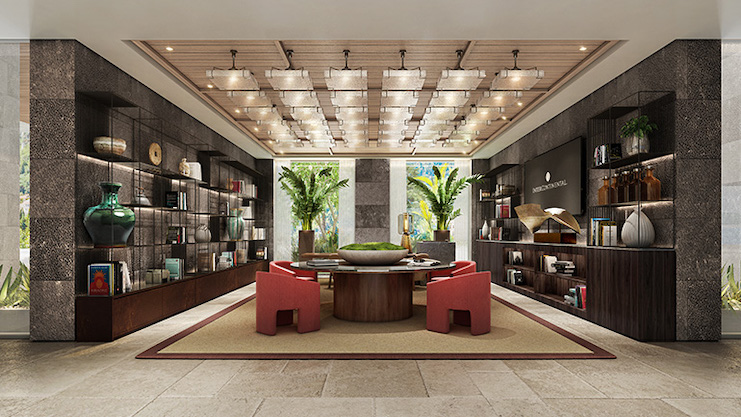 LONDON—InterContinental Hotels & Resorts announced a new chapter with the launch of a global brand evolution. As part of IHG Hotels & Resorts' luxury and lifestyle portfolio, InterContinental's transformation is driven by the brand's belief that travel can expand minds and connect cultures through technology, design, and team members.
This holistic evolution includes new offerings and experiences, a fresh brand culture, brand differentiators, and a food and beverage and hotel design strategy tailored to the traveler of tomorrow. With InterContinental hotels in cities from Rome to Shanghai, and 93 new hotels and resorts in the pipeline, these concepts will shape the future of InterContinental.
Tom Rowntree, vice president of luxury brands at IHG Hotels and Resorts, said, "This isn't a rebrand or repositioning; rather, it's a comprehensive transformation from start to finish of InterContinental, ensuring we stay at the forefront of crafting a luxury experience for the modern luxury traveler. Collaborating with our 215 hotels worldwide, we are committed to delivering precisely what today's and tomorrow's guests, owners, and colleagues require."
"At its core, this brand evolution revolves around our exceptional team members globally. Alongside a new brand service platform, we're introducing a fresh brand culture and a range of programs aimed at attracting and retaining the finest talent in the industry. Our colleague brand culture is grounded in InterContinental's core belief that travel expands the mind. We unite in diversity and wherever you are in the world, you belong at InterContinental."
New initiatives include scientifically backed food and beverage programs aimed at helping guests reduce travel fatigue while ensuring dining options reflect differing guest needs throughout the day. All guests will also receive access to the Timeshifter, a jet lag app that enables travelers to use the latest circadian science to adjust quickly to new time zones. InterContinental is collaborating with neuroscience-based designer Isabelle Sjovall to change guestroom spaces to enhance the restorative process needed for travel fatigue and reimagine physical spaces so they can adapt to evolving needs at different times of the day.
The concierge will play a significant role in this update. InterContinental will develop Concierge Galleries in hotel lobbies. These new outposts will resemble a boutique, bringing together interactive displays, library spaces, and informative features, in some cases art installations or designer pop-ups. From a design perspective, these social spaces will eschew the traditional desk in favor of an interactive worktable.
InterContinental Hotels & Resorts will grow micro-occasions for guests who wish to enjoy any number of life's milestones, from birthdays to baby showers, through its Incredible Occasions program. The Incredible Occasions program will help signpost bookable spaces around the hotel, where groups of guests can have privacy while celebrating memorable moments. Unlike grand settings or ballrooms, each intimate space will include programming and packages, consisting of amenities and experiences, such as tablescapes, candlelit dinners, or private masterclasses which can be offered. InterContinental will also have Celebration Suites across its global portfolio.
Melissa Messmer, global head of design for luxury brands at IHG Hotels & Resorts, said, "Each InterContinental hotel or resort is an experience-driven bespoke concept, tied together by our new Design Pillars that form the strength of our brand design style, Cultivated Elegance."