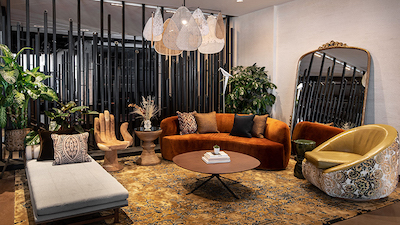 IHG Hotels & Resorts shared development momentum from 2022 and the start of the 2023 HUNTER Hotel Investment Conference in Atlanta, Georgia, by releasing an update on its recent and planned future growth across the Americas region and beyond.
Elie Maalouf, CEO, Americas, IHG Hotels & Resorts, said, "IHG continues to invest in strategic efforts that strengthen our brand portfolio while building trust and confidence among our guests and owners. We continue to see strong growth in the Americas and around the world, notably among our Suites brands and the Holiday Inn brand family and through the addition of exceptional Luxury & Lifestyle properties and brand debuts in key markets. With more than 4,300 Americas hotels among a more than 6,100 property global portfolio that spans 18 new and iconic brands, we're excited for the future and well positioned to deliver even greater levels of exceptional guest service and strong owner returns."
Milestones across IHG Hotels & Resorts' Americas and global portfolio include:
Holiday Inn Express: Remains IHG's largest global brand with 3,000+ open properties and nearly 327,000 rooms spanning 50+ countries; 110 signings globally add to a pipeline with the potential to expand the brand's market-leading scale by more than 20 percent; new downtown Washington, D.C. hotel among 2022 openings.
Holiday Inn: Sixty-two newly opened hotels include an Atlanta property near IHG's Americas headquarters, and the dual-branded Holiday Inn & Suites/avid hotel Mt. Juliet—Nashville Area and Holiday Inn/voco hotel Chicago Downtown—Wolf Point; refreshed prototype features a new design and breakfast offering, with a further 50 Americas hotels slated for renovation in 2023.
avid hotels: Scheduled to open its 60th hotel in Conyers, Georgia, this year, while also maintaining a 140+ property Americas pipeline that will more than triple its size in the region; new-to-market hotels opening later this year in Austin, Tuscaloosa, and Tulsa.
Atwell Suites: IHG's newest all-suites brand opened its first two hotels in Miami and Denver in 2022; 11 new Americas signings have expanded its regional pipeline to 30+ properties.
Staybridge Suites: Extended stay brand's growing global footprint includes 314 hotels spanning nearly 34,000 rooms; a 142-hotel Americas pipeline equals nearly half of its current regional portfolio; prototype adds seven keys while reducing build size by 2 percent.
Candlewood Suites: Mid-scale extended-stay brand's footprint includes 368 hotels and nearly 33,000 rooms; on track to increase its portfolio by one-third with 124 hotels in the pipeline. 
voco hotels: Opened 10,000+ rooms among 18 countries within five years of launch; recently opened hotels in Chicago, Niagara Falls, and Guadalajara will join forthcoming U.S. properties in Flushing, Destin, and Laguna Hills, and Mexico properties in Queretaro and Saltillo.
Crowne Plaza Hotels & Resorts: Global pipeline will expand the brand's current reach of 400+ hotels and 110,000+ rooms by 26 percent; three-quarters of the Americas portfolio will be new or have been recently renovated before the end of 2025, with 20 planned for completion in 2023.
EVEN Hotels: New prototype has a more cost-efficient design, refreshed restaurant concept, and wellness experience; on pace to double its Americas presence with 10 hotels in the pipeline, including planned 2023 openings in Bozeman, Beaverton, Waco, and Austin.
Six Senses Hotels Resorts Spas: Eight new signings grew the brand's global pipeline to 38 hotels, which will triple its existing portfolio; the brand's emergence in the Americas includes six signings, among them a resort with branded residences in Napa Valley.
Regent Hotels & Resorts: The brand's first Americas property is scheduled to open along Santa Monica Beach in late 2023; expanding global portfolio of 19 open and pipeline hotels include the recently reopened Carlton Cannes in France and signature properties in Vietnam, Hong Kong, Shanghai, and Bali.
InterContinental Hotels & Resorts: 200+ open hotels and 90 in the pipeline; 10 Americas pipeline hotels include planned openings in Dallas, Grenada, Bellevue, and Dominica.
Vignette Collection: Americas entrance included initial signings in Mexico's Yucatan Peninsula and Oregon's wine country, followed by its early 2023 debut opening in Washington, D.C.; new signings in China, Japan, and Germany will expand the brand's presence to more than a dozen countries, with 100+ properties globally expected to join during the next decade.
Kimpton Hotels & Restaurants: First all-inclusive resort in Mexico among 10 new global signings that increased the brand's global pipeline to 41 properties, representing growth of more than 50 percent on its 76 open hotels; 2022 also saw the opening of the brand's first Australian property in Sydney; five new Americas openings planned for 2023.
Hotel Indigo: On pace to reach 200+ hotels in the next three years, doubling in half the time it took to open the first 100; eight Americas hotel openings in 2022 included the brand's South American debut in the Galapagos Islands and three new properties in New York City.
Iberostar Beachfront Resorts: IHG's first partner also represents its 18th global brand, and accounts for 70 hotels and 24,000+ rooms; global pipeline includes five properties planned for the coming years, and expands guests' access to resort, beachfront, and all-inclusive properties in the Americas and Southern Europe.