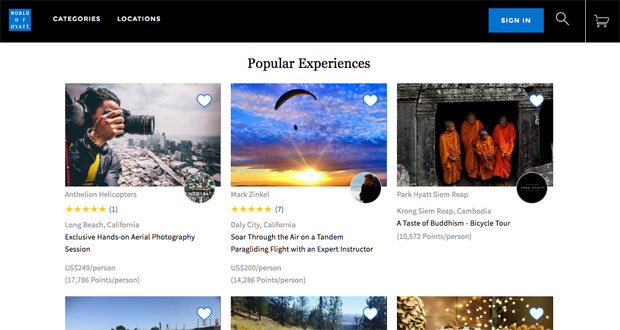 CHICAGO—Hyatt this week launched FIND, an extended way for eligible World of Hyatt members to earn and redeem points on experiences. FIND provides a curated selection of exclusive experiences focused on enhancing the mind, body, and spirit, both during and outside of hotel stays. Eligible members have the option to purchase experiences offered in the United States with cash and can earn 10 World of Hyatt Base Points per $1.00 USD, or redeem World of Hyatt points for experiences worldwide.
"Through continuing to listen and understand what is important to our members, we know they want to feel their best while exploring new and deeper parts of the world beyond their hotel stay," says Amy Weinberg, senior vice president, World of Hyatt. "With FIND, we are able to provide more value and care to our members by offering authentic local experiences that speak to different facets of wellbeing, allowing members to be rewarded with more World of Hyatt points while they try new things and practice self-care."
Designed to go beyond the guidebooks and into deeper parts of the world less known, FIND brings to life various experiences centered around food, drink, fitness, relaxation, and exploration. Eligible World of Hyatt members can choose from over 100 experiences focused on restoring, reenergizing, and self-care, and experiences will continuously evolve in the United States and international markets including, but not limited to: Chicago, Los Angeles, Las Vegas, Miami, New York, Sydney, India, Cambodia, and Vietnam.
Examples of these experiences include:
Creating your own herbal and organic beauty products in San Francisco;
An insider tour of the Chicago Farmers Markets with Aram Reed;
Joining the founders of Goat Yoga Las Vegas for a private feeding and yoga session with baby goats;
A paragliding tandem flight experience in Los Angeles;
A private Bonsai class with New York City's premier professional Bonsai artist; and
A guided hike through an old growth forest in Miami.
FIND is the latest of many new wellbeing initiatives from Hyatt. In 2017, Hyatt acquired the Miraval brand, expanding Hyatt's portfolio to include a brand that caters to self-improvement and a life in balance. World of Hyatt members are able to enjoy their loyalty benefits at Miraval Arizona Resort & Spa through the World of Hyatt program. In addition, through Hyatt's acquisition of exhale, Hyatt guests and World of Hyatt members can access boutique fitness classes and restorative spa therapies that provide a total mind and body experience.
In addition to these recent acquisitions, last month Hyatt also launched the World of Hyatt Credit Card, which includes a fitness Bonus category that rewards members for wellbeing purchases on fitness club and gym memberships. The company says that it plans to unveil more wellbeing initiatives in the near term.