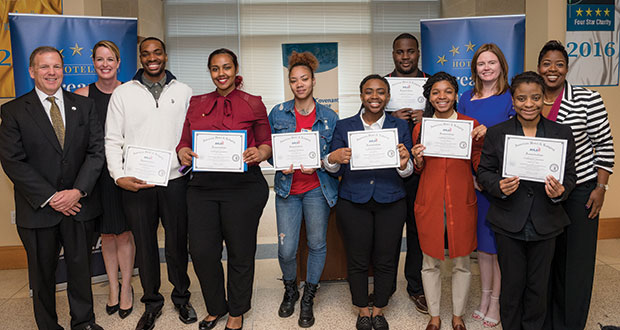 With summer ending, many young adults have returned to school. Yet, there are nearly six million "opportunity youth"—that is, young people between the ages of 16 and 24 who are out of school and out of work, but who possess the drive and resilience to succeed in the workplace.
Recognizing that a four-year college degree is not the only path to success, the American Hotel & Lodging Association (AHLA) and the American Hotel & Lodging Educational Foundation (AHLEF) launched the Empowering Youth Project to train opportunity youth for jobs in the hospitality industry. AHLA and AHLEF have partnered with the national nonprofit Grads of Life and committed $500,000 in grants for local community organizations to train 1,000 young people in high-demand markets, including Washington, D.C., Los Angeles, Chicago, and Baltimore, over the next two years.
Shelly Weir, senior vice president of career development at AHLEF, shares more about the Empowering Youth Project and how engaging opportunity youth is helping address one of the hotel industry's biggest challenges.
Why did AHLA and AHLEF start the Empowering Youth Project?
Many hotels across the country are facing a critical labor shortage—by one estimate, there are more than 600,000 job openings in the hospitality sector. The idea behind the Empowering Youth Project was to help our hotel members create a quality pipeline of workers to fill that gap.
With that goal in mind, I was introduced to Grads of Life, a national nonprofit committed to partnering with businesses to create employment opportunities for opportunity youth. I saw the great work Grads of Life was doing in the retail sector, and I knew that they would be a strong partner to help us not only address our industry's workforce needs, but also help the communities across the country where our hotels are located.

What do you think hoteliers are looking for when hiring employees, and how can 
opportunity youth meet their needs?
Our members regularly tell me that they are hiring for their particular company culture, and are looking for workers with strong employability skills, or "soft skills." They need help identifying a pipeline of employees who are willing to work hard and learn.
Opportunity youth have the grit and determination to succeed in the workforce, so our grants provide these youth with both the training and access to future employers to get a foot in the door. And, by providing the youth with the AHLA Certified Guest Service Designation, we can teach them how to 
provide great service—a skill that could prepare them for a variety of jobs within the hospitality industry.
Did you run into any challenges when you began to roll out the grants in the various cities?
One thing we learned pretty quickly is that many of the participants who went through our trainings were likely to accept the first job they were offered, even if it was in another service sector. We take pride in seeing how in-demand these young adults are, and we are so excited for their success. But, at the same time, we also want to keep our trainees in our industry. We're now working with our members to identify ways we can speed up internal hiring processes and ensure more of these young people join the hotel industry after their training.
We have also seen that incorporating a job shadow or work-based learning experience yields amazing results for both the youth and the employer. It gives our trainees a chance to experience the industry firsthand, identify the right career path, and practice the guest-service skills they learned in the classroom. At the same time, it gives employers a chance to showcase why their company is the right fit and ensures the hiring and onboarding process is smooth for these young adults.
What are the next steps 
for AHLA's Empowering 
Youth Project?
Our first year of the Empowering Youth Project has been a resounding success, and we are excited to build on that momentum and continue growing the program. We plan to continue investing in and growing our presence in our four established markets, while also expanding the training into additional communities in 2019. And we are looking to build tools for hotel members to make the program scalable across the country.
With a tightening labor market, the demand for talent in our industry is greater than ever. By connecting youth to opportunities in the hotel industry and providing them with the tools and training they need to succeed, we're helping address the labor shortage, investing in our workforce and communities, and building the next generation of hoteliers.
To learn more about the 
Empowering Youth Project 
and find out how you can hire opportunity youth, 
contact Shelly Weir at 
sweir@ahla.com.