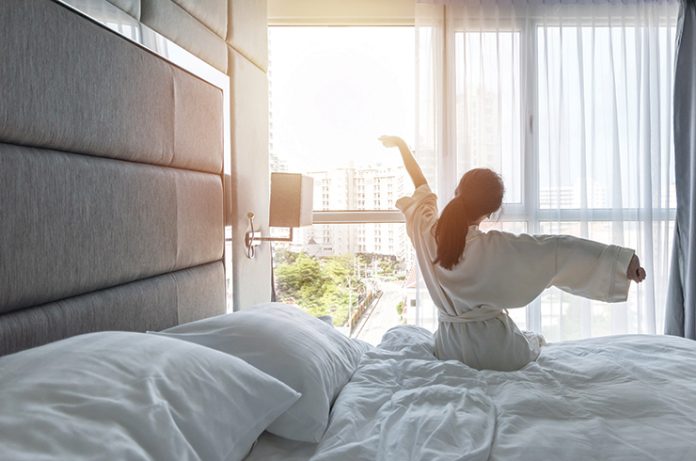 In the world of hospitality, delivering a memorable guest experience hinges on one crucial element: making guests feel at home away from home. Today's travelers aren't merely seeking a place to stay; they're looking for familiar comforts that recreate their home experience.
Creating a home-away-from-home experience for hotel guests starts with giving them a sense of familiarity and trust in their hotel beds. With the industry's #1 and #2 brands, Tempur Sealy's line of hospitality mattresses achieves this by offering the same comfort guests already know and love in their own homes. In this article, we'll explore how these mattresses, along with a few extra touches, can set the stage for a truly unforgettable stay.
Familiar Comfort in Unfamiliar Places
Travelers often find solace in the familiar, especially when it comes to their beds. Tempur Sealy's hospitality mattresses are designed to replicate the comfort and feel of the mattresses guests already trust in their own bedrooms. Built with longer-lasting materials that are tested 50 percent beyond the industry standards, they represent a savvy long-term investment, saving hoteliers money in the long run.
Center Third Support | Tempur Sealy hospitality mattresses feature an extra foam layer in the center third to provide more targeted support where guests need it. This also helps to reduce body impressions so the mattress looks and feels new for longer.
Chill™ Technology | Tempur Sealy hospitality mattresses incorporate cooling fibers into the knit mattress cover to give guests cool-to-the-touch comfort that starts the moment they lie down and lasts throughout the night.
Premium Foams | The premium foams used in Tempur Sealy hospitality mattresses are high-density and gel-infused to support guests—and hoteliers' business investments—for years to come.
Surface-Guard™ Technology | Tempur Sealy's Surface-Guard™ Technology kills bacteria on the mattress and protects it from common allergens that can disrupt guests' sleep. All Tempur Sealy hospitality mattresses are also CertiPUR-US certified and made without toxins.
Patented Robot Test | All Tempur Sealy hospitality mattresses undergo the company's Patented Robot Test to ensure they deliver an exceptional sleep experience stay after stay.
Beyond the Mattress
But, of course, creating a home away from home goes beyond the mattress. Hoteliers should also consider the ambiance of rooms—warm lighting, soft furnishings, and tasteful decor that evoke a sense of coziness can work wonders.
A recent study published in the Hotels' Digital Divide report reveals that consumers seek lodging experiences that reflect the comfort of their home lives. Hoteliers can incorporate these additional accommodations to better replicate the at-home experience:
Personalized Service | Offering personalized services can elevate the guest experience. Provide options for pillow types, room configurations, or room amenities, allowing guests to tailor their stay to their preferences.
Local Connections | Help guests connect with the local culture. Provide recommendations for nearby dining spots, attractions, and activities that align with their interests, adding depth to their stay.
Local Dining | Craft a menu of comfort foods and regional dishes that invoke the warmth of a homemade meal. The aroma of familiar flavors can transport guests back to the comfort of their own kitchen.
Wellness and Relaxation | Promote wellness and relaxation with amenities such as a well-equipped fitness center, spa services, and mindfulness sessions. These offerings demonstrate commitment to guests' physical and mental well-being.
In conclusion, Tempur Sealy's line of hospitality mattresses plays a vital role in creating a home away from home, but it's just one piece of the puzzle. By adding these extra tips—from creating a welcoming atmosphere to offering personalized service and fostering local connections—hoteliers can go the extra mile in making guests feel right at home, no matter where their travels may take them.
Sponsored by Tempur Sealy.