ATLANTA—InterContinental Hotels Group (IHG) has opened its 100th Hotel Indigo property globally—Hotel Indigo Berlin East Side Gallery. The brand is set to double its portfolio over the next three to five years and continue its growth as one of the largest boutique brands in this fast-growing segment.
Established in 2004, Hotel Indigo now has a presence in more than 15 countries with nearly 100 hotels in the pipeline. Currently, the brand has its largest number of hotels in the United States, where there are more than 50 hotels, and Europe, where there are almost 30, from Spain to Russia. Together with IHG's luxury boutique brand, Kimpton Hotels & Restaurants, IHG's boutique portfolio makes up almost 170 hotels globally.
The boutique hotel sector is the second fastest growing in the industry—only behind the extended-stay sector—and is expected to continue to grow. In the coming years, Hotel Indigo is set to debut in more than 10 new countries, including the UAE, Peru, Australia, New Zealand, India, South Korea, Japan, and Vietnam, as well as expanding in markets where Hotel Indigo has a significant foothold already, including the United States and the United Kingdom.
"Hotel Indigo is now at home in 100 different and vibrant neighborhoods globally, which is an incredibly exciting milestone," Eric Lent, senior vice president of global marketing for IHG's upscale brands, said. "While more than half of our current estate is in the United States, we are set to grow significantly in new markets with almost half our new hotels due to open in our Europe, Middle East, Asia, and Africa (EMEAA) region. The appetite for reliable, yet unique, boutique hotels continues to increase around the world and Hotel Indigo is perfectly placed to take advantage of that growth."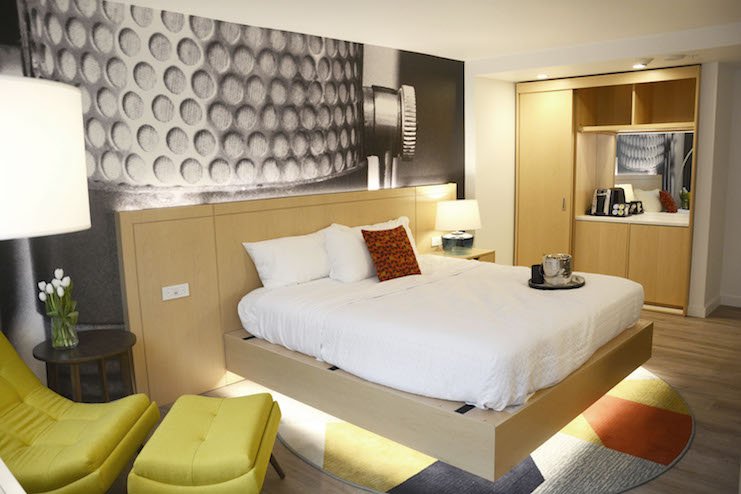 Each Hotel Indigo property draws inspiration from its surrounding area to inform all aspects of the guest experience, from the boutique design to locally-inspired restaurants and bars.
Openings coming up for the brand in 2019 include: Hotel Indigo Milan–Corso Monforte, Hotel Indigo Stratford Upon Avon, Hotel Indigo Dubai Downtown, Hotel Indigo Miami, and Hotel Indigo Coachella.