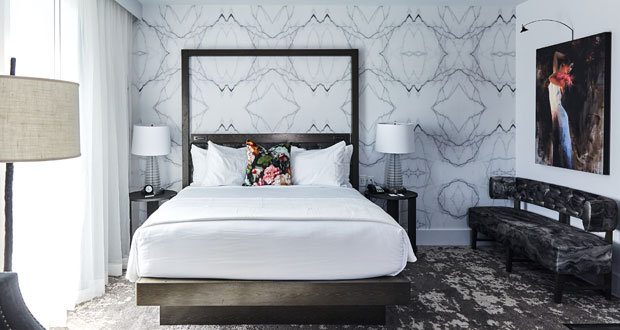 CHARLESTON, S.C.–Charleston's newest luxury boutique hotel, Hotel Bella Grace, officially opened on August 27 in conjunction with the completion and restoration of the Delaney House, circa 1830.
Hotel Bella Grace is named in honor of the acts of faith and forgiveness demonstrated by the families of the Emmanuel Nine. Located at 115 Calhoun Street within the Mother Emmanuel Memorial District, the hotel is one block from Marion Square and the Gaillard Performing Arts Center in downtown Charleston's Ansonborough Neighborhood.
Inside the custom-designed, 50-room luxury boutique hotel, architectural and interior design features blend and contrast historic and contemporary genres. Art, lighting, and décor illustrate the history of Hotel Bella Grace. Upon entering the reception area, black and grey wood flooring contrast with shears, 10-foot marble slabs, and white brick walls. A pair of female portraits bank the sitting room, which is center-pieced by a modern chandelier, leather couches, and candles amplified through a single row of large crystal vases.
[slideshow_deploy id='40610′]
Upstairs, the hallways of each floor are lined with custom-designed wool carpet in colors of gold, black, and silver. Modern light fixtures illuminate works of art, all hand-selected from female artists. Large chandeliers are designed to be the focal point of all suites. Each guestroom includes European-style full kitchens, ILLY Coffee service, living rooms, and guest entertainment.
The Penthouse Suite is designed for entertaining, offering a full kitchen, living room, and dining area. The highlight of this suite is its outdoor terrace, which offers views of ten Charleston church steeples. Hotel Bella Grace also offers a pre-arrival concierge, including grocery shopping services and trip customization provided through an exclusive partnership with Tick Tock Concierge.
Originally built as a Charleston single house, the building was owned by generations of Irish immigrants and served as home to a variety of renters, including Ludwig Lewisohn, a well-known novelist, critic, and scholar of the 20th century. The past centuries of women who lived and worked in the Delaney House serve as inspiration for the detailed renovation of each room within the home. Today, the restored Delaney House is the center of hospitality for Hotel Bella Grace's guests, serving breakfast, light bites, and beverages.
Hotel Bella Grace and The Delaney House at Hotel Bella Grace are operated by Local Hotel Adventures, and are both Marriott-affiliated and members of the Marriott Rewards Loyalty Program.
Photo credit: Kirk Robert