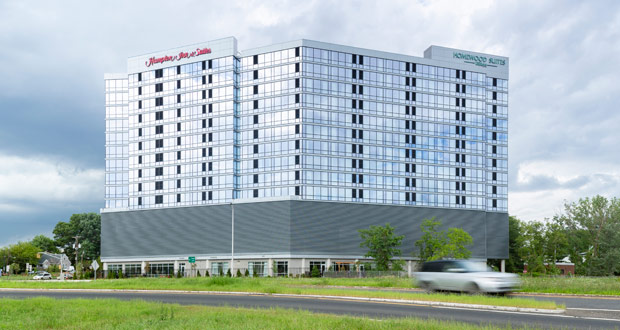 TEANECK, N.J.–Hilton has opened the dual-branded Hampton Inn by Hilton Teaneck Glenpointe and Homewood Suites by Hilton Teaneck Glenpointe, bringing a total of 350 new rooms to the Meadowlands area, which saw 101 million travelers in 2017, according to New Jersey Tourism Research and Information.
"New Jersey's booming tourism gives us a promising opportunity to expand our footprint in the Garden State, and this dual-branded property diversifies our presence in the market," said Shruti Buckley, global head, Hampton by Hilton. "Travelers visiting this prime area of Northern New Jersey—just 15 minutes away from the heart of New York City—will enjoy the outstanding guest experience our brands are known for."
Developed and owned by Alfred Sanzari Enterprises and managed by White Lodging, Hampton Inn by Hilton Teaneck Glenpointe and Homewood Suites by Hilton Teaneck Glenpointe are both located at One Glenwood Avenue, offering guests access to the greater Teaneck area and the Class-A Glenpointe office complex, where companies such as Samsung, Unilever, Kumon, Cognizant, Univision, and Cargill have offices and headquarters. In addition, the dual-brand hotel is close to I-95 and I-80; Newark Liberty International and LaGuardia Airports; local attractions such as MetLife Stadium, New York City, Yankee Stadium, CitiField; and additional dining, shopping and entertainment options.
The dual-branded concept has larger communal areas than what would be standard at a stand-alone property, and also have The Lodge, a restaurant and lounge area for guests to meet, eat, or relax; a shared lobby area; 24-hour fitness center; and indoor pool. The hotel also offers shared meeting space that can accommodate up to 100 people.
"As the home of famed MetLife Stadium and major fast-growing corporations, Bergen County is an ideal place for the dual-brand property," said Adrian Kurre, global head of Homewood Suites by Hilton. "By offering both an extended-stay and focused-service option for business and leisure travelers, the hotel provides convenience and flexibility for all guests."
Hampton Inn by Hilton Teaneck Glenpointe provides the brand's signature free, hot breakfast or On the Run breakfast bags. Other amenities include free WiFi, a 24-hour business center with complimentary printing, a fitness center, a pool, and three outdoor areas. Each guestroom has an HDTV, a refrigerator, and a coffeemaker, as well as the ability to use Digital Key to enter the rooms.
Homewood Suites by Hilton Teaneck Glenpointe offers a combination of studio and one-bedroom accommodations with fully-equipped kitchens and separate living and sleeping areas. Guests are also provided essentials like complimentary daily full hot breakfast, evening social Monday-Thursday, WiFi, and a grocery shopping service,