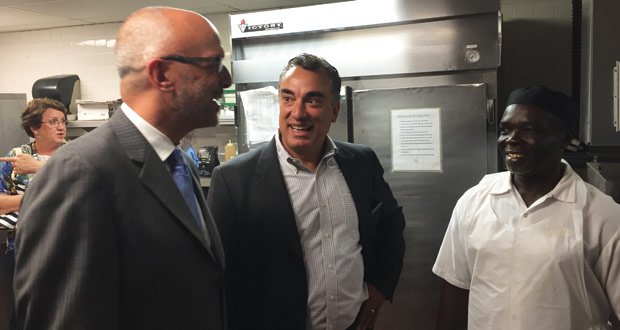 The hotel industry would not be what it is without the staff who do most of the work behind the scenes. To showcase the passionate teams that make hotels a home away from home for travelers, the American Hotel & Lodging Association (AHLA) created a "Heart of the House" tour program that gives members of Congress a unique glimpse into hotels across the nation. AHLA's government affairs team breaks down the program and why you should consider participating.
What is Heart of the House and why is it 
important to participate?
Heart of the House is a program that helps hotels tell their story to members of Congress, as well as other elected and appointed officials and candidates representing all levels of government. During a Heart of the House tour, a member of Congress hears from the employees who make hotels work day in and day out and sees firsthand the incredible teamwork, preparation, and labor that go into running a successful property. The hotel industry provides diverse and aspirational career opportunities, and we offer competitive wages, benefits, and a lifelong career track—all of which are showcased during these tours. — Kalyn Stephens,
 Vice President of Government Affairs & 
Advisor to the President & CEO, AHLA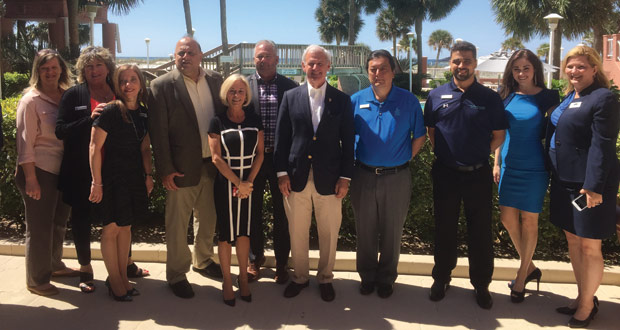 Who benefits from hosting a Heart of the House tour?
Tour after tour, AHLA receives overwhelmingly positive feedback from hotel staff, members of Congress, and partner state associations. These tours are a vehicle for the passionate staff members who comprise the heart of the house to share their personal stories, and for elected officials to learn about our industry firsthand. We urge you to consider having your hotel participate in a tour, because every opportunity to promote the heart of one hotel reveals the heart of the industry. — 
Jaymes Best
, Manager of Government Affairs, AHLA
How does Heart of the House help AHLA and the industry?
The Heart of the House program creates a connection between members of Congress and our industry. Members of Congress often speak about their experiences back home when they are in Washington. They are much more likely to understand and support our positions when they have learned about the industry from you, the people, and businesses of their district. — 
Craig Kalkut, 
Vice President of Government Affairs, AHLA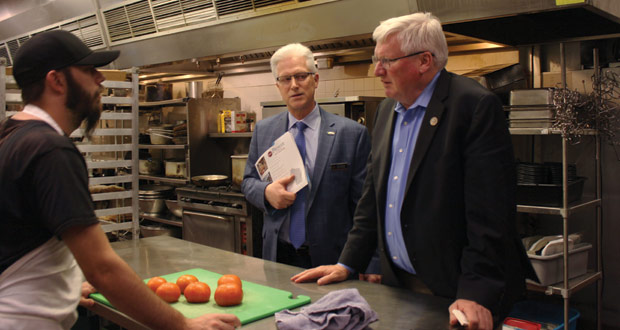 Why would a member of Congress want to tour my property?
Elected officials love to meet the job creators and economic contributors in their district. When they learn about the economic impact the hotel industry has on their district and the number of people we employ, they get a better understanding of the economic fabric of their district and can legislate appropriately. Heart of the House tours are also a great way for members of Congress to meet your employees, many of whom are their constituents. — 
Amy Travieso
, Vice President of 
Government Affairs, AHLA
When is the best time to host a Heart of the House tour?
Any time is a good time to host an elected official or candidate at your property. But, it can be especially impactful to do so in an election year, like this year. That's because members of Congress spend a lot more time back in their home states and districts during an election year, especially from August through October. A Heart of the House tour is a unique opportunity to have some important one-on-one time with your Congressional representative, demonstrate how your business operates, and give him or her a chance to interact with your associates, who are our industry's single greatest asset.
Meeting with an elected official back home is invaluable to the work AHLA does on Capitol Hill. From the front desk, where we can discuss deceptive practices and online booking scams that negatively impact our consumers, to the back of the house, where we can highlight the amazing career opportunities afforded our associates at member properties, to the challenges we face as a highly regulated industry competing with short-term rentals that are largely unregulated, Heart of the House tours are an irreplaceable lobbying tool. The more we can do to engage elected officials and candidates back home, the more successful we can be in advancing our agenda here in Washington. — 
Brian Crawford
, Senior Vice President & Head of 
Government Affairs, AHLA
What if I don't feel comfortable talking about legislative issues?
No need to worry. AHLA and the state hotel association handle the responsibility of talking about legislative issues so you can focus on what you do best—providing world-class hospitality. Showing the member of Congress around your property, talking about how your hotel operates, and introducing her or him to some of your employees are all critical parts of the learning process. — 
Chris Burgoyne
, Vice President of Government and 
Political Affairs, AHLA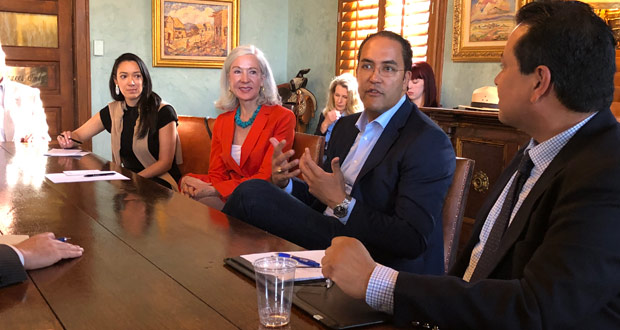 I am not from the same political party as my member of Congress. Is that a problem?
The primary purpose of the Heart of the House tour is to educate an elected official about your business and tell them about the issues the hotel faces on a day-to-day basis. Very rarely is politics a topic of discussion on these tours. AHLA works with elected officials from both parties, and we will be there with you to address any challenging topics that do come up. —
 Alyssa Clevenger
Senior Manager of 
Political Affairs, AHLA
How does the process work?
AHLA handles all the logistics of the tour and works with you to schedule the event. The tour itself takes 45-90 minutes, depending on your availability, the hotel's size, and the member of Congress' schedule. We will work with you on the best setup for your hotel. Typically, tours are led by the property general manager, with a representative from AHLA and the state hotel association on hand to provide a perspective on federal and state issues of the day. AHLA also provides talking points and collateral materials for the event. We'll be with you every step of the way to ensure the tour is successful. — 
Madeline Lee
, Manager of Government 
Affairs, AHLA
Top photo: Rep. Ted Deutch (D-FL-22) meets with hotel employees at the Hilton in Fort Lauderdale, Fla.