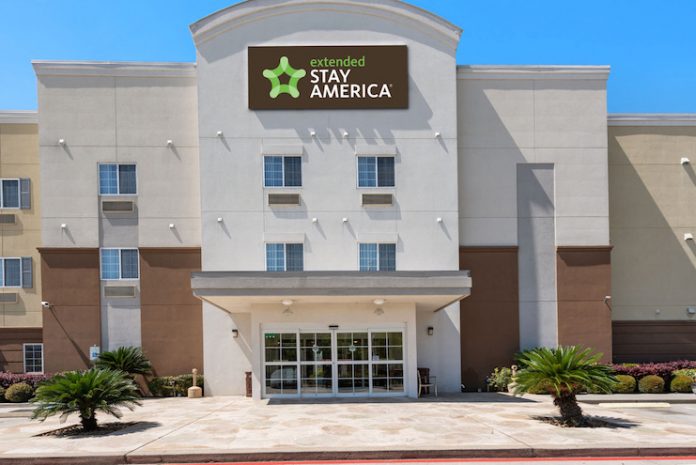 Charlotte, N.C.—Extended Stay America (ESA) announced today the first franchise conversion in the brand's history with the opening of the Extended Stay America Houston IAH Airport in Houston, Texas.
The all-suite property is owned by an affiliate of Provident Realty Advisors, Inc., a Dallas-based developer that recently purchased 16 Extended Stay America Hotels. This conversion marks the first of five hotels Provident committed to build or convert as part of their acquisition of the initial portfolio. All 17 Extended Stay America properties in the Provident portfolio are being operated by Aimbridge Hospitality.
The three-story, 115-room hotel is located close to downtown Houston and minutes from the Houston Intercontinental Airport as well as corporations such as Halliburton, Baker Hughes Inc, and Arco. The hotel has an on-site business center, in-suite kitchens and work desks, laundry facilities, and free WiFi. It will be undergoing a renovation to add some of the brand's signature items, including upgraded 43" TVs, converting the existing lobby to the StayPlay lobby design, adding a grab-and-go breakfast area, and updating some of the guestroom soft goods.
"This new ESA location represents our first opportunity as a franchisor to extend our brand quickly through a thoughtful and rapidly executed acquisition and conversion by Provident in the always-bustling Houston metro. We are thrilled to expand our relationship with Provident and Aimbridge," said Jim Alderman, chief development officer, Extended Stay America, Inc. "It continues our strategy of growing the ESA portfolio of properties through development and franchising. We look forward to working with Provident, as well as all of our current and prospective owners, on expanding the ESA footprint to service our guests everywhere they need a room with a full kitchen for as long as they need to stay."
"We are excited about converting the property into an Extended Stay America hotel," said Leon Backes, owner, Provident Realty Advisors. "We have experienced success with our ESA portfolio, which we credit to the great team we have in place and ESA's operating model being geared toward long-term stays. With this conversion, we are growing our ESA portfolio and plan to build off our success."