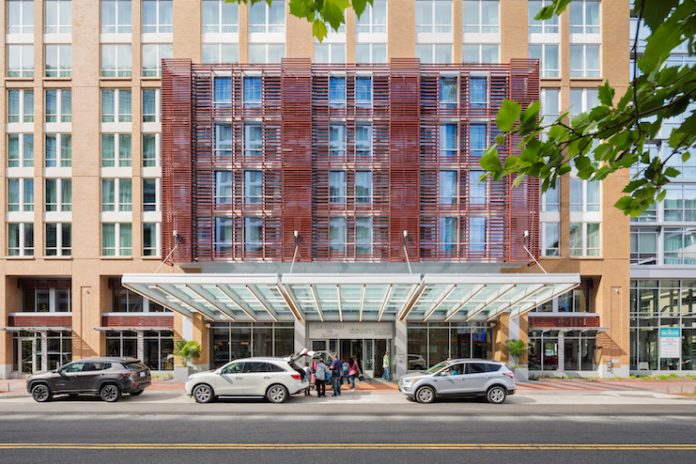 ATLANTA—Design firm Cooper Carry announced the completion of Columbia Place, a 12-story, mixed-use development with hospitality, residential, and retail offerings in the heart of the Shaw Historic District in Washington, D.C. The adaptive reuse project incorporates eight historic buildings, including a Civil War-era home.
The $230 million development consists of a dual-branded hotel—a 357-room Courtyard by Marriott and 147-room Residence Inn—with underground parking. The development also includes 203 apartments (The Lurgan), 3,000 square feet of ground-floor retail, 4,000 square feet of rooftop amenities, and 10,000 square feet of shared meeting space.
"The design of Columbia Place is a true celebration of the architectural history of Washington, D.C.'s Shaw District and a nod to the entrepreneurial spirit of the surrounding area," said Bob Neal, principal with Cooper Carry's Hospitality Studio. "Cooper Carry had the opportunity to integrate a variety of distinctive design elements throughout this project to create a one-of-a-kind destination that will attract leisure and business travelers from across the region."
The project is adjacent to D.C.'s Walter E. Washington Convention Center and Marriott Marquis Convention Hotel. Cooper Carry joined forces with tvsdesign on both Columbia Place and the nearby Marriott Marquis convention center hotel.
A key design component of the LEED Silver project was the integration of historical row houses and existing buildings. A three-story, 160-year-old Civil War-era townhome was moved from its original location and incorporated into the project within the dual-brand hotel. Seven additional historic buildings and the existing Lurgan Building were restored and reused for street-level retail as part of the project plan to further enhance the residential experience and preserve the area's historic character.
"Complex mixed-use projects such as Columbia Place showcase our multifaceted design approach that is authentic and creates a unique user experience," said Kevin Cantley, CEO of Cooper Carry. "We're pleased to expand our footprint in metro Washington with a project that embraces the rich legacy of the area and will leave a lasting impact for years to come."
---
Want more news on the latest hotel openings?