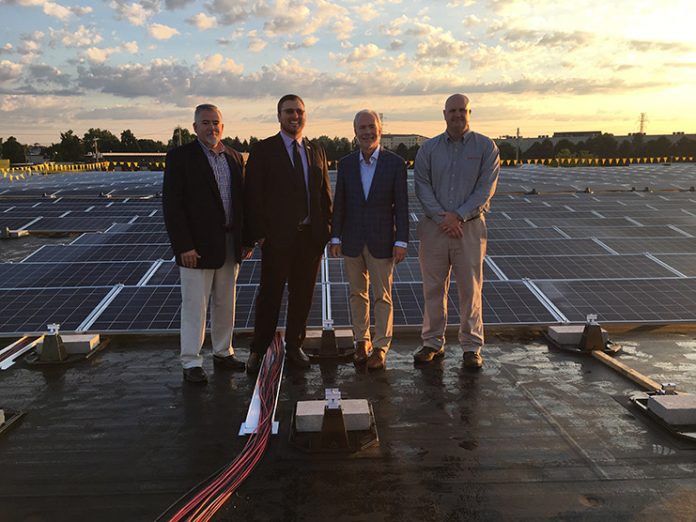 LANCASTER, Pa.—"Here Comes the Sun" played as High Hotels co-workers unveiled a solar panel representing a new solar array that began powering the Courtyard by Marriott Lancaster. The lights ceremoniously dimmed at the moment the electric power switched over to 100 percent renewable energy. About 75 staff, community members, elected officials, and onlookers watched as a new real-time meter located in the hotel lobby displayed the solar power produced by the project.
The celebration marked the completion of a 135,200-square-foot solar installation constructed by High Hotels—the Lancaster-based, family-owned hotel developer, owner, and operator—in partnership with Marriott International Inc. More than twice the size of a football field, the 2,700-panel array was placed on the roof of a warehouse about half a mile from the hotel. Both the hotel and the warehouse are located in Greenfield Corporate Center, a 600-acre, master-planned, mixed-use business campus with a strong track record of sustainable practices. Greenfield Corporate Center is owned by High Properties.
At 133 rooms, the Courtyard by Marriott-Lancaster at 1931 Hospitality Drive is the first Marriott-branded hotel in the United States with 100 percent of its electricity needs generated from solar power. It is also believed to be the first solar array in the country installed for the sole purpose of generating 100 percent of the electricity needs of a hotel.
"Our guests now have the satisfaction of knowing that they are staying in a hotel that's fully powered by the sun," said Russ Urban, president of High Hotels. "As a company, we're strong believers in environmental stewardship, and taking this step into renewables aligns with the interests of a growing segment of the traveling public."
Urban added that while guests can see the meter display and take pride in choosing this first-solar-powered Marriott, they will notice no difference in the function of electrically-powered amenities at the hotel. The solar array produces 1,239,000 kWh of power for the hotel, which consumes 1,177,000 kWh. Excess power is sold to the utility. High Hotels received a grant of $504,900 from the Commonwealth Financing Authority (CFA) through the Solar Energy Program to complete the project.
Photo (left to right): Greg Welker, Director of CFA Programs Division, Pennsylvania Department of Community & Economic Development; Russ Urban, President, High Hotels Ltd.; Jeremy Geib, General Manager, High Hotels; Mike Lorelli, Senior Vice President – Commercial Asset Management, High Associates Ltd.; Tony Seitz, Vice President – Development, High Associates; Ty Esbenshade, Vice President of Sales and Marketing, MVE Group Inc., the contractor for the solar installation.