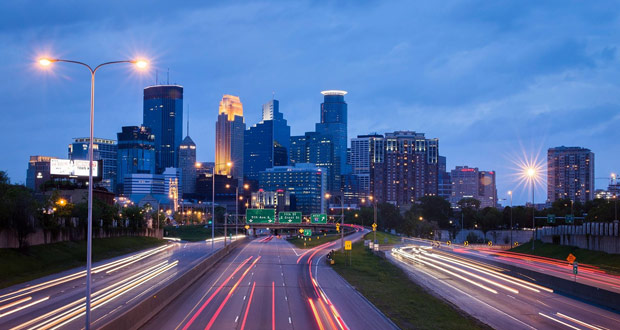 ROCKVILLE, Md.—Choice Hotels International finalized an agreement with C&O Bloomington, LLC to develop the Cambria Hotel Minneapolis-Saint Paul Airport. Slated to open in 2019, the five-story, 170-room upscale hotel will be the third Cambria property to enter the booming area, joining the already opened Cambria Hotel Minneapolis Maple Grove and the future Cambria Hotel Downtown Minneapolis. Ceres Enterprises, LLC and the Orlean Company will own and operate the new hotel.
The Cambria Hotel Minneapolis-Saint Paul Airport is located in a mixed-use corridor adjacent to the Mall of America, with access to nearby dining, retail, and entertainment. In addition, the hotel is a 10-minute drive to the Minneapolis-Saint Paul Airport, within walking distance to the Light Rail, and nearby to several corporate offices, including Ecolab, General Mills, Target, and U.S. Bancorp.
"The Cambria Hotel Minneapolis-Saint Paul Airport property represents another milestone for Cambria Hotels as we continue to grow the brand in markets that offer a healthy mix of both business and leisure demand," said Mark Shalala, vice president, upscale brands, Choice Hotels. "The Twin Cities have one of the nation's highest concentrations of Fortune-500 companies, as well as a thriving arts and culture scene. We look forward to working with Ceres Enterprises and the Orleans Company to bring another outstanding Cambria hotel to the region."
The hotel will have upscale amenities tailored to the needs of modern travelers, including: spa-style bathrooms; contemporary guestrooms with plush bedding; a fitness center and indoor pool; 4,000 square-feet of multi-function meeting space; onsite dining with freshly made food, local craft beer, wine, specialty cocktails, and small bites; and locally inspired design.
"The Cambria Hotel Minneapolis-Saint Paul Airport hotel is the fourth Cambria property to join our portfolio and is a testament to our confidence in the brand and the strength of our continued collaboration with Choice Hotels," said David Crisafi, president, Ceres Enterprises, LLC. "Minneapolis boasts the second-largest economy in the Midwest, making it an attractive location for Cambria development. We're fortunate to be a part of the brand's rapid expansion in key markets throughout the country."
"Cambria hotels are thoughtfully designed to provide guests with a local feel and distinctive upscale experience. Choice Hotels has been an incredibly supportive teammate for this project and others, and we're certain guests visiting the Minneapolis-Saint Paul area will love the unique Cambria product," said David Orlean, president, Orlean Company.