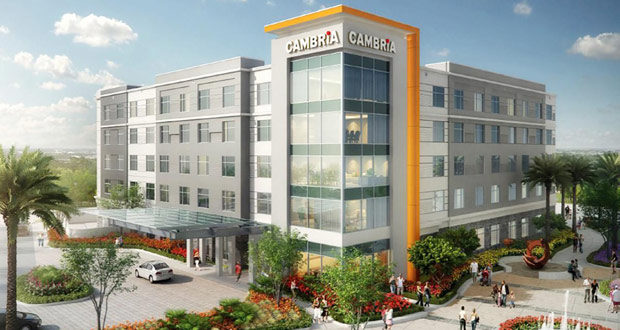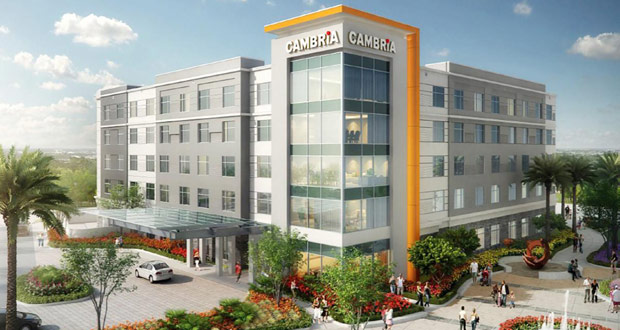 ROCKVILLE, Md.—Choice Hotels International and Frontier Hospitality Group have broken ground on the Cambria Hotel Bettendorf. Slated to open in 2019, the 112-room property will be the first Cambria property to open in Iowa.
The hotel is located at 5061 Competition Drive in the heart of Iowa's Quad Cities region as part of the 75-acre TBK Bank Sports Complex "BettPlex" and High Five Lanes & Games. In addition to its proximity to the Quad City International Airport, the new upscale hotel is near several businesses, including Rock Island Arsenal, Deere & Company (John Deere), Hy-Vee, Kraft Foods, and Oscar Meyer. The property is also minutes from leisure attractions, such as the Tax Slayer Center, Rhythm City Casino, and Isle of Capri Casino.
"The groundbreaking of the Cambria Hotel Bettendorf officially marks the brand's entrance into Iowa and its growing presence in key markets throughout the Midwest," says Janis Cannon, senior vice president, upscale brands, Choice Hotels. "The Quad Cities represent an important gateway for the region and attract a growing number of visitors annually. The hotel offers leisure and business travelers all of the upscale amenities that allow them to treat themselves on the road."
The new Cambria Hotel Bettendorf will have the hallmarks of the Cambria brand tailored for the modern traveler, including: contemporary guestrooms with plush bedding; spa-style bathrooms; a fitness center; menus with freshly made food, local craft beer, wine, specialty cocktails, and small bites; multi-function meeting space; and open lobby spaces with places to meet, work, and hang out with free WiFi.
"The Cambria Hotels brand, known for providing a unique upscale experience and unparalleled service, is a welcome addition to our portfolio and the growing Quad City business community. We're excited to celebrate the start of construction on the Cambria Hotel Bettendorf property with Choice Hotels and cannot wait to bring Iowa's first Cambria hotel to fruition next year," says Dan Huber, CEO and co-owner, Frontier Hospitality Group.