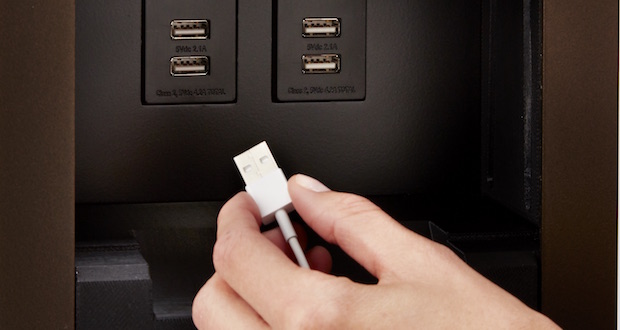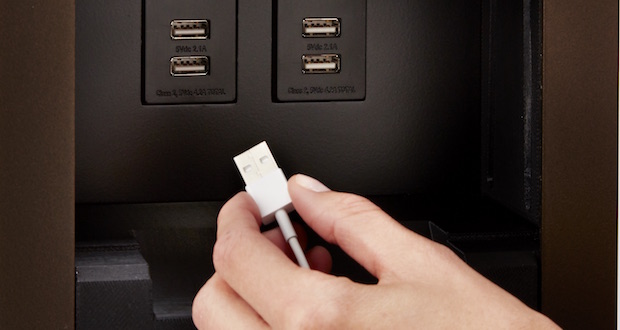 There's no doubt about it—hotel guests are spending more time outdoors and in common spaces with their favorite devices in hand. This is especially the case during summer months, when events like weddings, concerts, and conferences are the most frequent. By prepping outdoor areas with ample power and charging solutions, hotel properties can ensure a seamless guest experience.
Guests crave outdoor electrical solutions like easy charging, and they also expect entertainment to roll on uninterrupted. In fact, according to a 2017 survey commissioned by Legrand and conducted online through Harris Poll, half of hotel guests wish they had access to an outdoor power station. It's clear that guests are hungry for power—and many more would be, too, if they knew solutions were available beyond an extension cord to meet their outdoor charging needs.
Below are four tips for hotels to create outdoor electrical and connectivity options that help keep guests entertained.
Let Guests Connect Anywhere
Where do guests need power most? More and more guests are spending time in non-traditional spaces like outdoor restaurants, bars, pools, and patios—especially within resorts and seasonal properties. Install code-compliant outdoor charging stations near pools, lounge chairs, and patios, and think about how guests will be using them. Well-placed charging stations should be right within reach, eliminating the need for anyone to head indoors to charge.
For outdoor restaurants and bars, incorporate outlets and USB ports directly into furniture like seats, tables, and even along the bar. This added convenience will help encourage a longer stay—and help revenue for hotel owners and operators.
Install Safe, Permanent Power to Accommodate Large Events
Power up large-scale outdoor events by installing in-ground electrical products. While hotel operators may be accustomed to more traditional generators and equipment, these products often require considerable time and resources to install and dismantle. Not only this, but the process can potentially damage existing landscaping and outdoor materials.
Opt for ready-to-use solutions to transform any surface into a permanent power, data, AV, or connectivity supply. Once a location is determined, in-ground power supplies are simple to install, requiring about three hours to set up, cutting down labor costs and time.
Choose in-ground options in neutral colors that seamlessly fit into existing landscapes like patios, walkways, and grass. But don't forget safety. Consider options that can withstand extreme weather conditions to keep guests and staff safe year-round.
Specify Multi-Functional Solutions
When investing in outdoor electrical options, hoteliers should keep the end-user top of mind and pick solutions that can multitask. A solar-powered umbrella, for instance, offers easy-to-access power and charging capabilities while also providing much sought-after shade. And because it runs off solar power, it helps reduce electricity—all while keeping guests comfortable. Not only this, but the solution can be simply dropped into existing outdoor tables with zero trenching required.
Illuminate Outdoor Spaces with Stylish Lighting Solutions
Ensure plenty of outdoor lighting for nighttime activities by installing uniform lighting throughout pathways, near the pool, and within any other popular outdoor venues. Neutral colors such as black, silver, and bronze blend into existing spaces and add a stylish touch while allowing guests to travel safely throughout the entire hotel—all without sacrificing design.
About the Author
Rob Garcia is a hospitality sales manager at Legrand.
Photo courtesy of Legrand