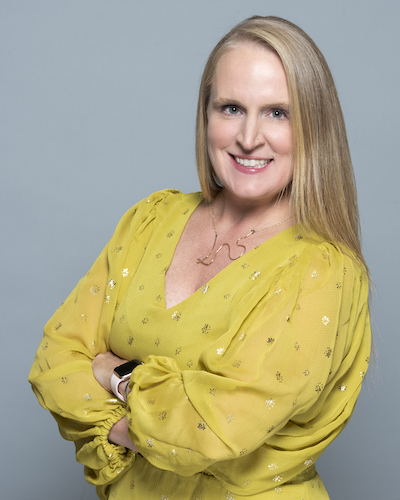 As associate vice president of market development, Kim Twiggs manages DIRECTV's Hospitality & Institutions business unit, which includes creating and implementing strategies that support the sale of DIRECTV free-to-guest programming and products to hotels, hospitals, senior living facilities, and universities. Twiggs' team leads both direct and indirect sales and distribution, including a network of more than 200 in-room television integrator partners. Products sold through these distribution channels include the Advanced Entertainment Platform (AEP), DIRECTV Residential Experience (DRE), and COM3000, through which guests can access hundreds of HD channels, premium On Demand, Over the Top, and streaming content. Previously, Twiggs oversaw the development and growth of DIRECTV's Multi-Dwelling Unit (MDU) business. She has been with DIRECTV since 2006 and lives in Colorado with her husband, George, and their kids, Jax and Alexandra.
Twiggs shares with Kara Filer, senior vice president of strategic partnerships and business development for the American Hotel & Lodging Association (AHLA), what DIRECTV is all about, the innovations that are changing the company's approach, how the industry is evolving, and more.
Can you give a bit of background on your company?
At DIRECTV, we provide personalized entertainment experiences and quality services. We believe entertainment has the power to bridge cultural gaps, ignite connections, and advance change.
Since our launch in 1994, DIRECTV has continually evolved our products, including best-in-class content and personalized services, to provide customers an industry-leading video offering.
As we bring people, communities, and the best stories together, we're continuing to create innovative experiences while embracing emerging technologies.
What innovations have changed the way DIRECTV approaches its hospitality clients over the past few years?
In-room entertainment continues to evolve to match consumer behavior, and DIRECTV is evolving to meet the need. Our latest entry into the market is the AEP, a next-generation content-delivery solution that provides DIRECTV linear satellite, free-to-customer app-based content, and on-demand content for an enhanced in-room entertainment experience.
AEP is core to DIRECTV's strategy by delivering what guests want in-room with live TV, OTT, on-demand, and personal subscriptions, effectively mirroring the at-home entertainment experience. We're outpacing technology in the hotel space by diminishing the complexity of multiple logins for multiple services and revolutionizing in-room entertainment with one aggregated, consistent experience.
How did you first hear about AHLA and what made you want to get involved with the organization?
Working in hospitality, I've always known about AHLA, as DIRECTV has been a longtime supporter of AHLA's events and industry initiatives. As a member of AHLA's ForWard Advisory Committee and Advisory Board for The Hospitality Show, I think it's important for female leaders to have a seat at the table and have a voice in helping to advocate on behalf of the industry.
How do you see the hotel industry evolving over the next five years?
The industry is still in recovery mode from the pandemic, but as people get back to pre-pandemic travel levels, people are relying on travel and hospitality to escape and refuel from the increasing amount of stress they're experiencing in their lives. It's more important than ever for travel, and in particular the hotel guestroom, to be a source of respite and relief, an experience that ignites joy and alleviates stress, and one that inspires great memories along the journey. For DIRECTV, we want to help ensure travelers have the best in-room guest entertainment to contribute to that experience.
We also saw the shift to digital transactions during the pandemic, and what was once considered a "nice to have" at a hotel has become a "must have" as it relates to convenience and safety—and most importantly—customer satisfaction. Contactless experiences have become the new norm, and I see hoteliers continuing this trend going forward.
What do you like most about being in the hotel industry?
DIRECTV is the largest provider of in-room entertainment in U.S. hotels,* so our passion for hoteliers and the hospitality industry is unparalleled. Personally, the opportunity to couple this passion with the ability to support business and technology, along with helping to support and elevate women in the hospitality space through our corporate initiatives, has become a top priority for me as well as for our entire company.
*Source: May 2022 International Data Corporation (IDC) Business Television Forecast Study