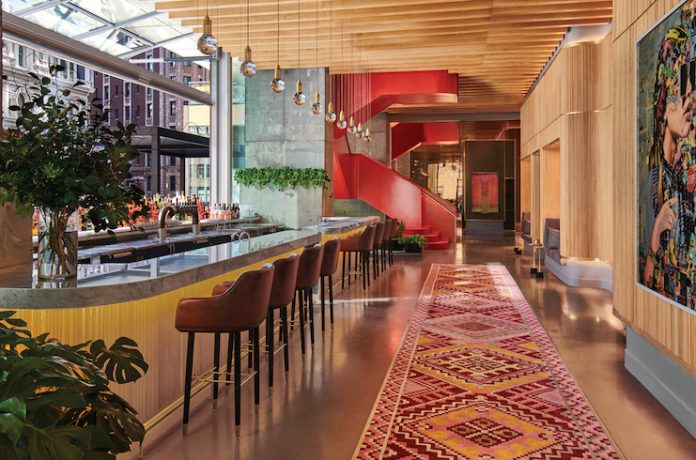 Virgin Hotels New York City, which held its grand opening in April, brings the brand's bold and innovative style to Manhattan's NoMad neighborhood. The newest addition to the Virgin Hotels collection features design and architecture by Brooklyn-based MARKZEFF and Stantec, respectively, and offers guests 460 accommodations, an outdoor Pool Club, and over 19,000 sq. ft. of function space. In addition, Virgin Hotels New York City is home to Everdene, a 4,500-sq.-ft. indoor/outdoor dining and entertainment venue whose distinctive name is a literary reference. "In 1874, Thomas Hardy's publication of Far From the Madding Crowd introduced Bathsheba Everdene as a formidable female protagonist in literature," explains Teddy Mayer, the creative director/VP of design for Virgin Hotels. "Her ambition, independence, determination, and free-spiritedness exemplified feminist ideals, which have inspired the design concept." Accordingly, Everdene makes strong design statements throughout, with features including natural gray polished concrete floors, raw concrete columns, wooden-beamed ceilings, rose gold-mirrored accent walls, white marble countertops, brass details, and velvet upholstery. Blending the indoor lounge and The Everdene Terrace, which wraps around Broadway and 30th Street, is accomplished by floor-to-ceiling windows and botanical elements. "The indoor/outdoor divide is eroded by the expansive operable façade along the double-sided main bar, allowing guests to feel that they are inside or out while enjoying the equally bold and colorful beverage program," says Mayer. "The connection to outdoor space and the availability of natural light and views are lasting trends in hotel bar design."
In addition to the expansive windows, plants and flowers further connect the indoor space to the Everdene Terrace. Visible from the bar, the Terrace features two black-framed pergola structures situated parallel to Broadway, which can be configured to accommodate a variety of dining arrangements and special events.
"The most distinctive piece of art in Everdene is the glossy, Virgin-red, double-height sculptural stair that connects the space to the restaurant and The Pool Club above," says Mayer. "The 20-ft. floor-to-floor structure, with its 35 risers, is made from bent steel reminiscent of a ship's hull."
All surfaces—ceiling, columns, floor, countertops, and walls—were thoughtfully designed. For example, "in lieu of single pieces of oak, the wall cladding was prefabricated white oak tambour sheets that were then seamed together onsite," says Mayer.
Given that the venue is named after literary character Bathsheba Everdene, designers chose paintings that centered on female subjects, such as collage artist Katy Hirschfeld's All Mixed Up (2022), which also "aligns with the vibrant street art culture of New York City," Mayer explains.