DENVER—RLH Corporation just celebrated the grand opening of its first Signature brand property since announcing the brand's refresh last year. Signature San Francisco has 34 guestrooms, two suites, and is outfitted with mid-century modern furniture, fun textures, and complementary design elements to craft a retro-modern feel with all the conveniences and comforts today's traveler has come to expect.
"We are so excited to open the first refreshed Signature hotel in San Francisco," said Amanda Marcello, senior vice president of brand strategy at RLH Corporation. "Located in the heart of the SoMa district, Signature San Francisco was revitalized and repositioned from a dated hotel into a vibrant and bold boutique hotel experience through focused renovations to guestrooms and common areas."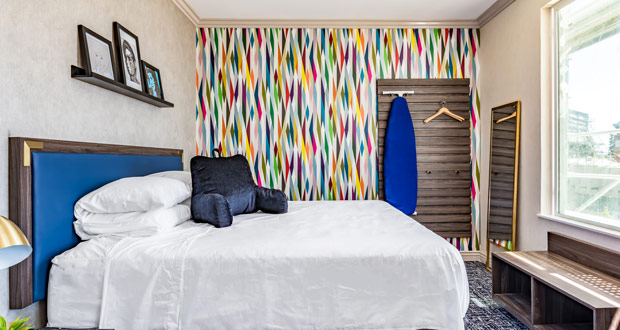 "The Signature brand has brought new life to my property and I am already seeing an increase in the average nightly rate and amount of reservations," said Anil Patel, owner of Signature San Francisco. "The RLH Corporation team has been with me every step of the way and I am thrilled with the results. I cannot wait for our guests to experience the brand-new Signature."
The hotel includes 52" HD TVs, high-speed WiFi, mobile check-in, and mobile key solutions. Located at 259 7th Street, Signature San Francisco is three blocks from Westfield Center and five blocks from Moscone Center.
"Pairing mid-century modern design with an approachable price-tag, Signature by RLH Corporation manages to capture the earnest mentality of a bygone era, bringing the golden age of travel to life through smart design and modern conveniences," said Marcello. "From retro touches to bold color blocking, modern-day travelers can expect a vibrant and playful atmosphere with a touch of Americana nostalgia, creating a stay experience that is both comfortable and memorable."