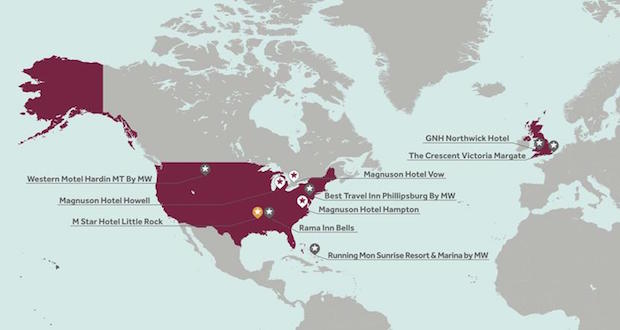 Magnuson Worldwide has added 10 new hotels to its branded portfolio and its "By Magnuson Worldwide" soft-brand collection in the last 30 days.
The company's global expansion includes several properties in North America: Magnuson Hotel Vow in Listowel, Canada; Magnuson Hotel Howell Michigan (former Best Western); M Star Hotel Little Rock in Arkansas (former Motel 6); and the Magnuson Hotel Hampton, a former La Quinta and the company's fourth branded hotel in Virginia.
Magnuson added to its soft brand with the Best Travel Inn Phillipsburg in New Jersey (from Red Lion and America's Best Value Inns). Also in the United States, Western Motel Hardin is upgrading to the collection as Magnuson's first soft-branded property in Montana.
Across the pond, Magnuson added its first collection property in the United Kingdom: The Crescent Victoria Margate. The company also added Running Mon Sunrise Resort and Marina in the Bahamas, which joined the collection as a resort hotel.
Joining as independents are the Northwick Hotel in the United Kingdom, which is a part of the Great National Hotels, as well as the Rama Inn Bells in Tennessee.