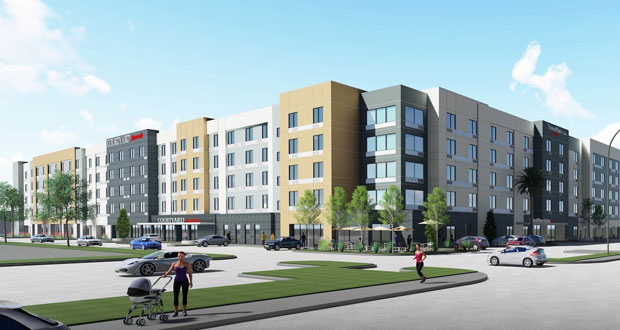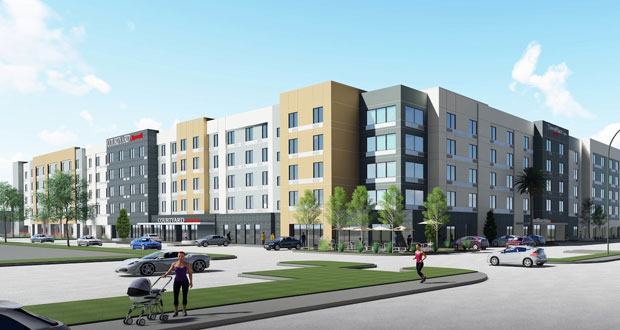 LOS ANGELES—Hospitality design firm Level 3 Design Group (L3DG) has expanded its portfolio by adding modular hotels. One of the projects near completion is the dual-branded Marriott Courtyard and TownePlace Suites in Hawthorne opening in October. The other, the San Jose Hilton Garden Inn is on track to be finished by mid- to late-2019.
"Although modular construction isn't a new concept and has been used in the United States for years, it is becoming a fast-growing trend in the hospitality market because they are extremely time and cost efficient, which adds tremendous value," said Jim Spitzig, president of L3DG.
Modular hotels consist of prefabricated rooms that are manufactured off-site, then shipped and assembled on location. Modular processes can save months of construction time compared to traditional methods and they help reduce the carbon footprint on the environment.
The Marriott Courtyard and TownePlace Suites is the first hotel in downtown Hawthorne. It is also the first and largest dual-branded modular hotel for the Marriott chain. The five-story hotel will host 354 guestrooms plus meeting spaces, a restaurant, and pool.
The Hilton Garden Inn will be five stories high with 150 guestrooms, small meeting spaces, a gym, and ample parking. It is being constructed where the original Calvelli building (now being demolished) was built in 1971 and is less than 2 miles away from the San Jose Mineta International Airport.
Top photo: Marriott Courtyard and TownePlace Suites in Hawthorne