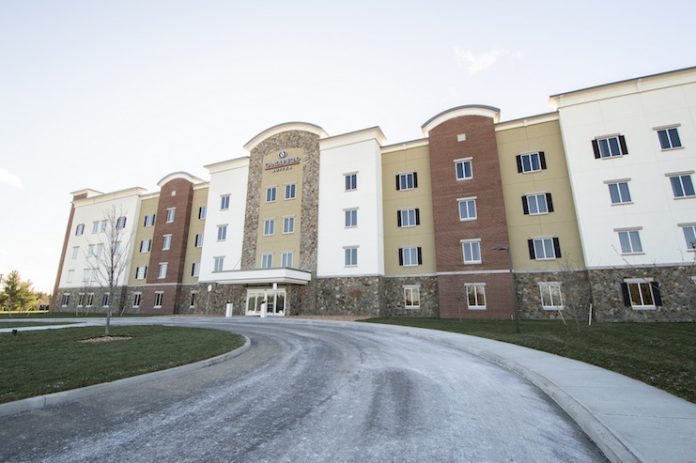 NASHVILLE—Lendlease, a public-private community developer, and IHG Army Hotels have opened a new Candlewood Suites on Fort Drum in upstate New York. The property is the second mid-sized hotel in the country constructed using Cross Laminated Timber (CLT).
Made of several layers of pressed lumber board stacked in alternating directions, CLT offers builders maximized strength and durability with added sustainability and conservation benefits. The new hotel incorporates CLT for the hotel's floors, roof, exterior walls, shaft walls, and select interior walls. Lendlease currently has five additional hotels in different phases of design and construction, three of which will be constructed using CLT.
"Lendlease embraces and prioritizes innovation and utilizing CLT allows us to execute on our vision to create the best places while providing a sustainable outcome for our Army partner," said Claire Johnston, managing director of Lendlease's Communities business. "The use of CLT and other integrated methodologies has made it possible to 'do more with less' by constructing projects faster, with less labor, and safer than conventional materials and methods. We are proud to have successfully delivered two CLT hotels in the United States."
The more-than-65,000-square-foot structure includes 99 all-suite rooms equipped with full-sized kitchens and large work areas, outdoor space including a BBQ gazebo, visitors lounge, lobby, and breakfast area. The 13-person Lendlease crew used more than 1,700 pieces of mass timber and 200,000 pieces of hardware to erect the building. Eight of the crew members who worked on the Fort Drum project were local veterans referred to the project through Fort Drum's Soldiers for Life program.
"The Candlewood Suites on Fort Drum is an excellent addition to the IHG Army Hotels portfolio and another great example of the success of privatization. We are very proud to support Fort Drum's mission and deliver IHG's signature hospitality and amenities to travelers with the Department of Defense," said Chuck Sourbeer, head of operations, IHG Army Hotels.
Part of the Privatization of Army Lodging (PAL) Program, Lendlease is the owner, developer, design-builder, and asset manager for the Candlewood Suites on Fort Drum, and the exclusive developer for the Department of Defense's only lodging privatization program. IHG is the hotel operator and manager of IHG Army Hotels, which are located on 40 U.S. Army installations and provide service and amenities tailored to meet the needs of military travel.
The Candlewood Suites properties on post offer studio and one-bedroom suites, each with its own fully equipped kitchen, including a full-size refrigerator, sink, stovetop, and dishwasher. Each suite is also equipped with pots, pans, and utensils to make it easy for guests to cook a complete meal while staying at the hotel. Other amenities include a daily complimentary breakfast, evening barbecues, 24/7 free guest laundry, the Candlewood Gym, and the Candlewood Cupboard, where guests can purchase meals, snacks, refreshments, and necessities that are all available on an honor system.