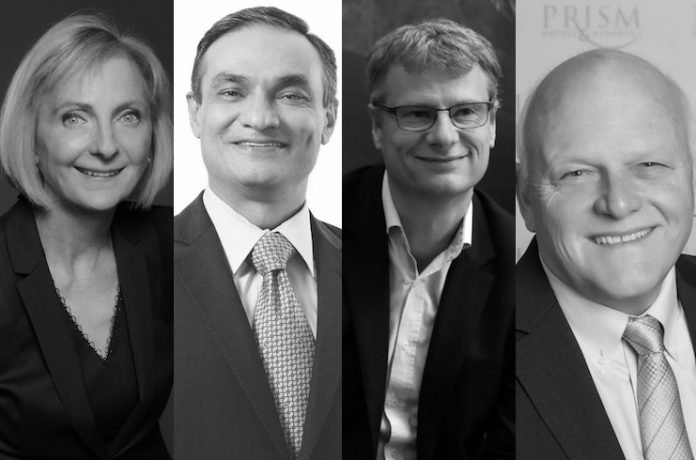 With executives from across the industry trading views on the year ahead at the 2019 Americas Lodging Investment Summit (ALIS), a small group of decision-makers met for a 90-minute, closed-door roundtable sponsored by revenue science pioneer IDeaS to discuss the intersection between innovation and asset value in the industry.
With questions looming about the effect of an industry downturn and even a possible recession in 2019 or 2020, the conversation could not have been better timed.
The panel was headlined by Rajiv Trivedi, president, La Quinta by Wyndham, Wyndham Hotels & Resorts; Steve Van, CEO of Prism Hotels; and Suzanne Mellen, senior managing director and practice leader, HVS. IDeaS Chief Evangelist Klaus Kohlmayr served as moderator.
The central question: What role do technology and revenue innovation play in helping determine the value and bottom-line success of a hotel property—and what role can it play in the future?
It's All About the People
Tackling the broad question of where technology and balance-sheet profitability meet, the group's attention quickly turned to the lifeblood asset of any hotel: It's people.
Steve Van noted that labor costs are far and away the biggest drain on any hotel's profitability—accounting for more than 50 percent of revenues—and spoke about ways his 30-property portfolio is cutting costs, while at the same time promoting better retention and more efficient use of staff time.
"We'd like to be able not just to use our people's time better, but to help them do their jobs better, and more efficiently," Van explained. "For example, do we need to order 400 pounds of bacon on Wednesday morning for the restaurants, or can we do with less?"
He went on to explain that the proprietary software the company uses helps them answer questions such as these based on forecasted guest demand. "If sales and marketing at one property know that a big group has canceled, that gets communicated," and the bacon purchase order can get adjusted accordingly, Van said, adding that innovations such as this save the company hundreds of thousands of dollars each year.
Rajiv Trivedi echoed the importance of bringing the technology question back to people. "We've focused so much on personalization for the consumer in our industry—how can we personalize the experience for our own employees?" He noted the huge turnover that plagues hotel operations and budgeting, and challenged the industry to develop solutions that help. "How can technology help us create loyalty among our employees," Trivedi asked.
Of Robots and Reinvention
Each roundtable participant weighed in on the importance of artificial intelligence (AI) for the future of hotel operations, focusing on robotics as a particularly promising area.
"If I can get a robot to fold all my sheets and towels, that's amazing," said Van. "And if I can get a robot to do all my housekeeping I am saving $50 million. It's a whole new ballgame."
Suzanne Mellen agreed, and noted the disjunction between innovations such as robotics and AI, and the perspective of asset managers and hotel owners. "I've never heard these topics discussed" at meetings where asset values are determined, said Mellen.
Why not?
One likely reason is the absence of standards for measuring the impact of innovation on the balance sheet.
Klaus Kohlmayr said that there are well-defined metrics for thinking about how hotel operations impact the bottom line universally and in many specific areas, but not in innovation. "There has to be a way to evaluate the positive impact of new technologies and it should probably come from the owners themselves," he concluded.
The group agreed that there is no more important time to try to align these conversations than in times of market weakness.
Back to the Future—and Back to Human Resources
Not surprisingly, Amazon took center stage during the panel, both as a model for the kind of cloud-based innovation the industry needs and as a potential future threat.
The group discussed the potential disruption that could be caused by Amazon's unleashing its Prime membership into the hotel loyalty arena, and Trivedi noted Amazon's looming presence not just on the consumer side, but in B2B as well. Specifically, he wondered how long before the company established a platform for purchasing, with the potential impact on pricing.
"They would need to understand the difference between consumer purchasing and business purchasing in our industry, and find the right partners to work with," he said. "There is no doubt the partners are there."
Finally, the group turned back to property-level operations, trying to envision what the "GM of the Future" is likely to look like. On the one hand, they agreed that today's new generation of general managers are more comfortable with technology than ever, and more reliant on its features to help them stay organized, focused, and run their businesses. At the same time, facility with social media should not be confused with a better understanding of ways to successfully innovate on property.
OTAs, expanding channels, and other disruptive forces are broadening the field of play and demanding the GM be more aware of all the factors that lead to top-line revenue and profitability. "Today, the revenue manager needs to manage his whole town," said Trivedi.
And in an age dominated by technologies that bring hotels to travelers everywhere and disruptive change to properties in nanoseconds, it's clear that his town has become the whole world.