KEY LARGO, Fla.—Baker's Cay Resort recently opened as the newest addition to Curio Collection by Hilton and the first in the Florida Keys. The 200-room resort spans 13 acres of tropical groves and provides exclusive access to one of the most secluded white sand beaches in the area. Situated on a former pineapple plantation owned by the hotel's namesake, Captain Ben Baker, the resort pays homage to the notion that pineapples serve as a symbol of hospitality through design touches and amenities.
"Curio Collection is pleased to add Baker's Cay Resort Key Largo to our global portfolio of nearly 70 hotels and resorts, providing an ideal getaway for every trip occasion," said Mark Nogal, global head, Curio Collection by Hilton. "From relaxing on the beach to the vast property experiences inspired by nature, Baker's Cay Resort Key Largo is a destination not to miss in 2019."
"We've curated an experience where travelers can find the true, undiluted pleasures of a natural island setting complete with a tropical landscape, white sand beaches, intimate waterside groves, and unparalleled access to nature's calming, restorative, and rejuvenating power," said Joy Boyd, general manager, Baker's Cay Resort Key Largo. "Our bay is your playground away from it all—whether wading on the beach or sipping a cocktail at our tiki bar, each moment is filled with the authenticity and beauty that make the Florida Keys such a beloved destination."
Design
The exclusive beachfront resort embodies a casual, upscale aesthetic, drawing inspiration from the Florida Keys' natural surroundings. Designed by California-based Powerstrip Studios, the resort's design elements include hand-carved wood furnishings, wicker seating, metalwork, and textured white finishes. The 200 nature-inspired guestrooms and suites have handcrafted furniture, eclectic artwork, private terraces, and custom-tile bathrooms.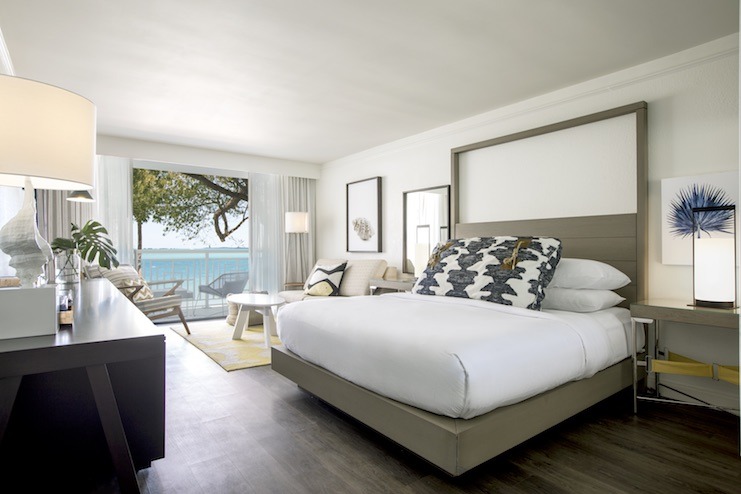 Amenities
The resort's amenities include Green House, an Aveda exclusive salon at Baker's Cay, two swimming pools enhanced by a waterfall grotto, a library with reading nooks, and a hammock-lined path.
Programming
The resort's programs span across wellness, sustainability, informational workshops, watersports, and more. Activities include a children's eco-educational camp, seaplane rides, beach golf with bio-degradable golf balls, fishing charters, parasailing, diving, and more.
Baker's Cay Resort created inclusive programs to involve family members and pets during their stay, including:
Cay-1: Designated experts curate site-specific guest activities like a seaplane ride to Key West for the day or helping restore the only live coral reef in the United States.
Cay-9: The resort has an onsite husky as the director of pet relations and offers canine amenities such as beachside tikis, custom lifejackets, marriage ceremonies, and Paw Happy Hours complete with bacon flavored 'yappetizers', Dog Perignon Champagne, and FetchMe Noir.
Cay-11: The Kids Camp offers nature immersion experiences, including snorkeling to learn about the area's coral reef, 'trashion' arts and crafts, scavenger hunts identifying Bakers Cay Resort's natural elements, culinary classes, and more.
The resort has partnered with sustainable and local businesses such as Lather with Keez-Beez, Samba Sol, Aloha Collection, artist Michelle Nicole Lowe, Maaji, Jade Yoga, and Kind Traveler.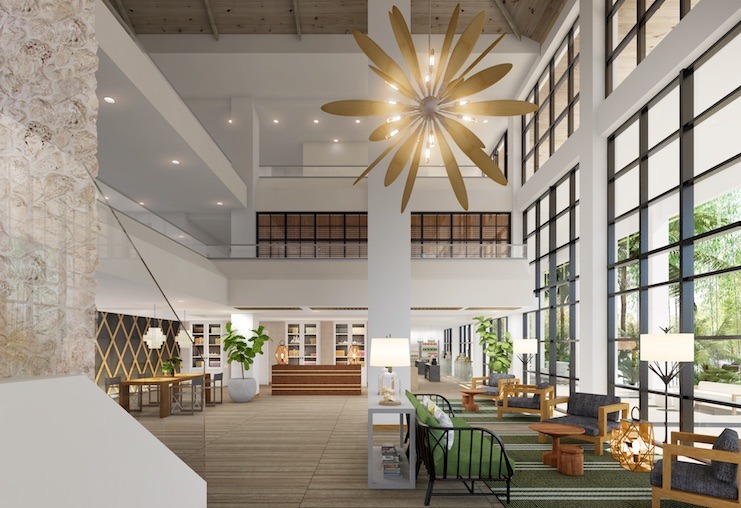 Dining
Under the leadership of Executive Chef Andy Papson who brings a dash of New Orleans soul to the eateries, the Baker's Cay Resort culinary team leverages local ingredients from the island and its rooftop garden to create dining and craft cocktail experiences with fresh menus.
Calusa, an indoor/outdoor Caribbean-Creole restaurant, offers panoramic views of the bay, turquoise-tinged décor, and dishes like Johnny Cakes and a Creole Skillet. Dry Rocks offers an upscale beach atmosphere, complete with live music, fire pits, and certified tequila connoisseurs who will teach guests to craft their own cocktails using signature Baker's Cay Patron Reposado and Anejo. To round out the dining varieties are The Pool Bar and food truck offering fresh-from-the-grill items and a beach Tiki Bar.
Sustainability
In its commitment to an eco-consciousness lifestyle, the property was the first resort in the Florida Keys to commit to Reef Relief's "Skip the Straw" campaign in March 2018, and has partnered with The Everglades Foundation, Coral Reef Restoration Foundation, and Dolphin Plus Marine Mammal Responder for responsible community support and educational programming.
"The Keys are experiencing such a resurgence this year and we're honored to bring a concept like Baker's Cay Resort to the mix whose focus will be tied heavily to supporting the local environment through interactive guest experiences and thoughtful partners," said Thom Geshay, COO at Davidson Hotels & Resorts. "From its unparalleled location with private shoreline to a sustainable and luxurious design, our whole team is eager to welcome new and returning visitors to the newest addition of our portfolio."