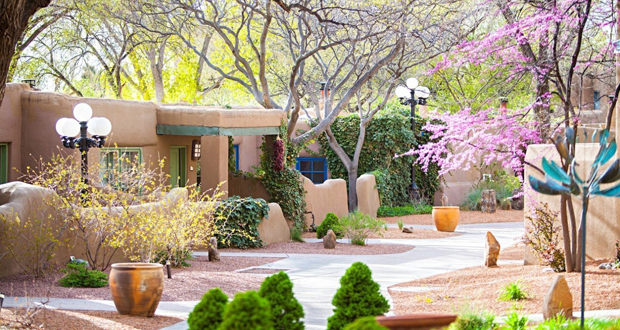 DALLAS — Ashford Hospitality Trust, Inc., has entered into a definitive agreement to acquire the 157-room La Posada de Santa Fe in Santa Fe, New Mexico for $50 million. The acquisition is expected to close in late October, subject to customary closing conditions.
La Posada is located on more than five landscaped acres three blocks from the historic Santa Fe Plaza. With its strong brand affiliation, the boutique hotel is positioned as one of the leading properties in a lodging market with very high barriers to entry. Located in northern New Mexico approximately 60 miles north of Albuquerque, Santa Fe is among the country's most popular leisure destinations, with over 250 art galleries, boutiques, and restaurants. Additionally, the hotel is proximate to the Santa Fe Opera House, Georgia O'Keefe Museum, Museum Hill, Dale Ball Trails and La Tierra Trails, among others.
La Posada has 157 rooms, including 30 suites, spread across 26 structures throughout the resort. The Property also offers an array of amenities: a 4,500 sq. ft. full-service Spa Sage; four food and beverage outlets, including the Julia – Spirited Restaurant & Bar; 7,800 sq. ft. of indoor/outdoor meeting space; an outdoor pool; 24-hour fitness club; and an on-site curator service with prominent paintings and sculptures displayed for sale throughout the property.
During the past few years, the property received over $6 million in capital improvements. Post-closing, the property will be managed by Remington Lodging, which also manages the Hilton Santa Fe owned by Ashford Trust. The company expects to benefit from the joint management of La Posada and the Hilton Santa Fe by clustering revenue management resources, consolidating accounting functions, and sharing various positions in sales and human resources.
"The acquisition of La Posada provides us the opportunity to own another high-quality asset in this attractive market where we have been a long-time owner of the Hilton Santa Fe," said Douglas A. Kessler, Ashford Trust's president and CEO. "We believe that by installing Remington as manager at La Posada we should be able to realize significant operational synergies given our existing hotel in the market that should benefit both properties. Additionally, the ERFP contribution by Ashford Inc. should serve to increase the returns on this investment for our shareholders."