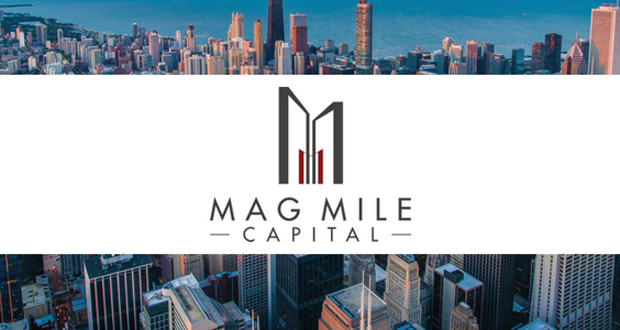 Aries Conlon Capital has announced that the company is rebranding to Mag Mile Capital. The newly named Mag Mile Capital relocated its Chicago headquarter offices to the Willis Tower and plans to maintain its presence in the New York, Texas, and the Southeast markets. Rushi Shah will continue as principal and CEO under the new name, along with the firm's originations team, pipeline, and national commercial mortgage and investment banking platform.
"The rebrand to Mag Mile Capital and leadership structure transition will enable us to concentrate on the firm's core commercial mortgage and investment banking services, while also exploring technology and process advancements that will increase efficiency and results for our customers," Shah explains. "As we move the company forward, we will continue to build upon the 27-year foundation we have developed as a team in the industry."
Neil Freeman and Sean Conlon will remain with their original organizations, Aries Capital, LLC and Conlon and Co, respectively, and will have no ownership interest in Mag Mile Capital, according to the company. Tom Reckley has joined a firm in a related industry and is continuing to refer business to Mag Mile Capital. Rob Bernstein will continue as head of capital markets and placements for Mag Mile Capital based in New York.
"The culture here has always been entrepreneurial and we will continue to be able to leverage the resources and capabilities of a large organization, while also remaining nimble and efficient as we deliver the personal and specialized attention that clients can only get from a boutique company," Bernstein says.
"We are a dynamic team and we will continue to expand our national platform and capabilities drawing from our resources, experience, and extensive networks," Francisco Nacorda, senior vice president for the firm based in Orlando, adds.
Mag Mile Capital will also continue as a Club Blue Member of the Asian American Hotel Owners Association (AAHOA).
Chicago's Magnificent Mile on North Michigan Avenue, or Mag Mile, is internationally known as a hub of shopping and restaurants and home to many of the nation's most notable landmark buildings. According to the company, Mag Mile Capital chose the new name to reflect the firm's international client base, Chicago roots, and its boutique service.